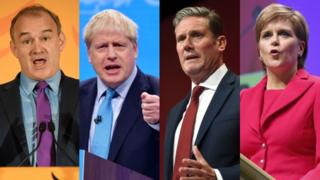 Image copyright PA Media
It's just not the same.
Coronavirus has robbed politicos of the chance to mingle in their hundreds at party conferences this autumn.
Debates and speeches won't feature the familiar laughs, groans and applause. Intrigues will no longer happen late at night in the crowded hotel bars of Birmingham, Liverpool and Brighton.
Virtual conference dates
Instead, Conservatives, Labourites and Liberal Democrats will have to watch their leaders speak via Zoom (other video-conferencing apps are available).
The parties insist the events will be as vibrant and interesting as possible, but what are the big things to look out for and how much has changed?
Labour
Image copyright PA Media Image caption Sir Keir Starmer is keen to improve his party's professionalism
The party has changed the name of its conference to Labour Connected, which, it says, is about "people coming together, to create a fairer and better society".
Held in central London rather than as previously intended in Liverpool, it promises "keynotes, training, rallies, policy discussions, and an interactive virtual expo".
The training involves tips on how to get more would-be councillors and MPs elected. This, according to a party source, is part of a "conscious" desire to make Labour more professional in its campaigning, following its trouncing by the Conservatives at the last general election.
With Parliament continuing to sit during the delayed conference season, the number of keynote speeches from the shadow cabinet and other senior figures has been reduced, focusing on leader Sir Keir Starmer, his deputy Angela Rayner and shadow chancellor Anneliese Dodds.
Image copyright PA Media Image caption Angela Rayner will be making a speech and a visit
It will be Sir Keir's first conference speech since replacing Jeremy Corbyn as leader in April. While lacking the usual razzmattazz – which a source described as a "shame" – it will push a unifying message.
This follows the bitter divisions of the Corbyn years and comes amid murmurings from left-leaning unions such as Unite and the Fire Brigades Union about his own leadership.
Sir Keir, Ms Rayner and Ms Dodds will make visits around the UK during Connected, as opposed to the usual photo-opportunities at hospitals, schools, farms and beaches near conference venues.
Another way the Labour event will differ markedly from normal is that there will be no votes. Delegates' decisions are part of the party's policy-making process, but this is not happening this year.