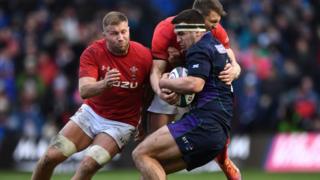 Image copyright Stu Forster/Getty Images Image caption Scotland v Wales at Murrayfield in last year's Six Nations
The Six Nations match between Wales and Scotland should be called off, Plaid Cymru has said.
Leader Adam Price called for all mass gathering events should be postponed or cancelled.
The safety of citizens "must be put before everything else", Mr Price said.
But Welsh Health Minister Vaughan Gething said advice cancelling events would not make a difference in saving lives.
However he said similar advice to the Scottish Government, which has recommended large events do not go ahead from next week, is being considered in Wales.
Wales' chief medical officer Dr Frank Atherton said that, from Friday, people with symptoms of a new cough or fever would be asked to self-isolate for seven days as part of an escalated response to the coronavirus.
Plaid earlier cancelled its own spring party conference, due to be held on 20-21 March in Llangollen.
Welsh Labour also announced it was cancelling its conference, in Llandudno, at the end of the month.
Scotland's First Minister Nicola Sturgeon has recommended that mass events involving more than 500 people should not go ahead from next week.
Mark Reckless, Brexit Party group leader in the assembly, called for all schools in Wales to be closed from Monday.
"I recognise the disruption this will cause, but I believe social distancing should begin sooner rather than later, and that doing so now may make a significant difference to the rate of infection and save lives," he said.
Adam Price said: "The safety of our citizens – including the most vulnerable and at risk of coronavirus, must be put before everything else."
He called for the Welsh Government to take "urgent and aggressive action" rather "than waiting for instruction from London".
They should consider instructing public sector workers to work from home, whether schools should break up early for Easter, the party leader said.
"All mass gatherings and events should be postponed or cancelled with immediate effect – that would mean no indoor gatherings larger than 100 and no outdoor gathering larger than 500."
Earlier Plaid Cymru said cancelling its conference "is the most responsible course of action for the party to take in the current circumstances."
Conservative assembly member Andrew RT Davies said postponing the Wales-Scotland match was "surely the sensible move".
Image caption Vaughan Gething said opposition parties should take a "responsible approach"