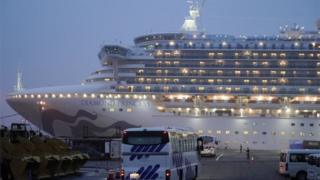 Image copyright EPA Image caption About 3,700 people are quarantined on board the Diamond Princess
The Foreign Office is "considering all options" for Britons trapped on a quarantined cruise liner in Japan struck by coronavirus – including flying them home.
Some of the 74 UK passengers and crew on the Diamond Princess said they felt "forgotten", as other countries flew citizens home.
The ship was quarantined on 3 February.
Meanwhile, a hotel at Heathrow Airport has been block-booked to isolate arrivals suspected of having the virus.
On Monday, Japanese officials said there were 99 new cases of infections on board the ship, bringing the total to 454 confirmed cases. It is the largest cluster of cases outside China.
It emerged that about 3,700 passengers and crew could be stuck in quarantine beyond the initial 19 February deadline.
A Number 10 spokesman said: "We sympathise with all those caught up in this extremely difficult situation.
"The Foreign Office is in contact with all British people on the Diamond Princess, including to establish interest in a possible repatriation flight."
He said the government is "urgently considering all options to guarantee the health and safety of those on board".
Earlier, passenger David Abel called for the government to evacuate the British citizens on board, saying: "It feels that we have been forgotten."
Image copyright PA Media Image caption David Abel said he had little confidence the UK government would rescue him and his wife
Mr Abel's son, Steve, said in a message posted on YouTube his parents were beginning to feel the effects of "stress" and "confinement" after 28 days on the ship.
"I want my mum and dad to wake up in the morning and actually have some information sent to them – they need to be communicated with," he wrote.
All rooms at the Holiday Inn Heathrow Ariel hotel have been booked by the government to quarantine passengers displaying symptoms of Covid-19, the illness caused by the coronavirus.
Ask me
Share this chatbot
function cutsTheMustard() {
return (
document.implementation.hasFeature('http://www.w3.org/TR/SVG11/feature#BasicStructure',