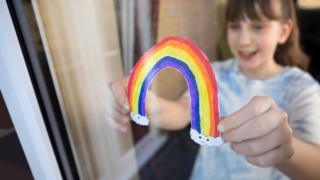 Image copyright Getty Images
Ministers are later expected to announce a three-week extension to the coronavirus lockdown.
Foreign Secretary Dominic Raab will lead emergency Cobra committee and cabinet meetings about the continuation of social distancing measures.
Labour has said it will support an extension, but also called for details on how and when the lockdown would end.
Meanwhile, social care directors have said distribution of protective kit for carers has been "shambolic".
Speaking at Wednesday's daily press briefing, Health Secretary Matt Hancock said restrictions on movement were beginning to help reduce the spread of the virus.
But he warned "we will not lift these measures until it is safe to do so".
The UK's chief medical adviser, Prof Chris Whitty, has warned of a possible "bounce" in the numbers soon, due to delays in reporting deaths over the Easter weekend.
He said while the UK was "probably" reaching the peak of its epidemic, the high numbers of deaths were expected to continue for a "short while" longer.
Prime Minister Boris Johnson introduced strict curbs on life in the UK on 23 March, as the government sought to limit the spread of the virus.
Since then, people have been allowed to leave home only to exercise once a day, travel to and from work when "absolutely necessary", shop for essential items and fulfil medical or care needs.
Ministers are required by law to assess whether the rules are working, based on expert advice, every three weeks.
The government – led by Mr Raab as Mr Johnson continues to recover from the virus – will detail the outcome of the first assessment at the daily Downing Street news conference later.
Labour's shadow health secretary Jonathan Ashworth told BBC Breakfast he expected the lockdown to be extended for a further three weeks, and that the party would back an extension.
But he called for clarity from the government about "what happens next" and for a move to a "testing and contact-tracing strategy" to exit the lockdown.
He said: "Last night the junior health minister Nadine Dorries was complaining on Twitter that people shouldn't be asking about an exit strategy because there's no exit strategy until we get a vaccine.
"Well that could be 18 months away so if the government are saying we're in lockdown for 18 months they probably need to tell us."
Ministers in Scotland and Wales have already said their lockdowns are set to remain in place,