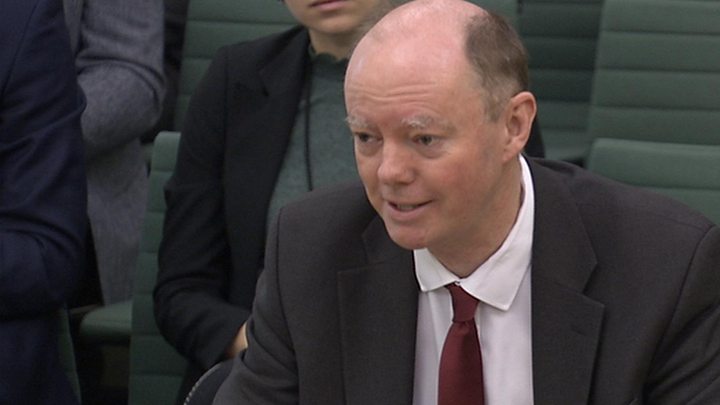 Media playback is unsupported on your device
Media captionChief medical adviser Professor Chris Whitty: "Community transmission highly likely"
UK health officials are moving towards the second phase of their response to the coronavirus outbreak.
In the "delay" phase measures will be ramped up to slow the spread of the virus, the country's chief medical adviser Prof Chris Whitty said.
He told MPs it was "highly likely" some people now being infected in the UK have no connection to overseas cases.
Three new cases of the virus in Scotland have brought the total number of positive tests in the UK to 90.
Speaking to MPs on the health and social care committee, Prof Whitty said the country was now "mainly" in the delay phase of the government's four-part plan to tackle the virus, but was still following aspects of the first phase.
Downing Street said it would formally announce when it switches from the contain to delay stage of taking on the virus – and that this has not yet happened.
The government is still deciding what measures will be taken in the delay phase, but has previously said they could include banning big events, closing schools, encouraging people to work from home and discouraging the use of public transport.
But Prime Minister Boris Johnson said the government's scientific advisory group for emergencies (Sage) had told him that closing schools and stopping big gatherings "don't work as well perhaps as people think in stopping the spread".
He told ITV's This Morning programme: "One of the theories is perhaps you could take it on the chin, take it all in one go and allow the disease to move through the population without really taking as many draconian measures. I think we need to strike a balance."
Mr Johnson said it would be "business as usual" for the "overwhelming majority" of people in the UK.
Prof Whitty also said there was "no need" for members of the public to stockpile food or medicine, adding that the outbreak would be a "marathon not a sprint".
"There is nothing in the current environment that would rationally lead someone to want to go out and stock up on stuff," he added.
The government has said it has a stockpile of important medicines and protective equipment, to counter any impact to global supply chains.
What do I need to know about the coronavirus?