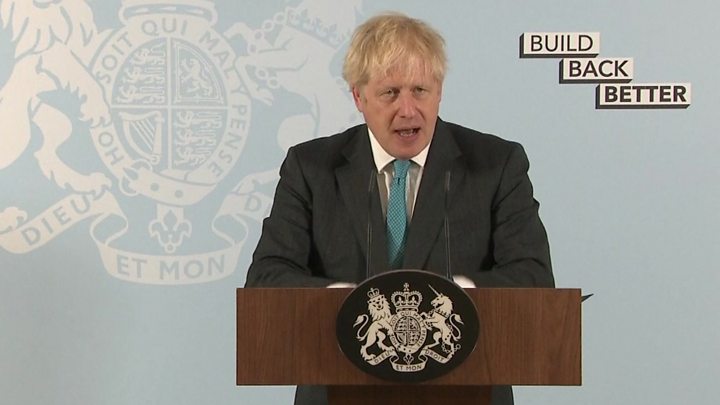 Media playback is unsupported on your device
Media captionPM: Covid has "massively accelerated changes that were already happening".
Boris Johnson has vowed "radical" changes to the adult education system in England to help boost the post-Covid economy.
The prime minister said the pandemic had "massively accelerated" changes to the world of work, and made training gaps "painfully apparent".
He said funding changes could help end the "bogus distinction" between academic and vocational learning.
But Labour said the plans would not make up for "a decade of cuts".
Speaking at a further education college in Exeter, Mr Johnson said the government currently provides "virtually no free training" for people older than 23.
He added that the government cannot "save every job" amid the Covid-19 pandemic, but better training would help people find new work.
He said a new "lifetime skills guarantee" would offer a fully funded college course to people over 18 in England without an A-level or equivalent qualification.
The commitment will be paid for under an already-announced £2.5bn boost to England's National Skills Fund coming into effect next April.
Funding will be offered for courses offering "skills valued by employers" – with full list to be announced next month.
The prime minister added that the government would make higher education loans more flexible, to allow people to "space out their study across their lifetimes".
PM tries to offer some hope amid Covid gloom
Whether it's Boris Johnson's "levelling up" agenda or previous governments' promises to tackle the skills gap, some of what we've heard today may sound familiar.
For example, that the supply of skilled workers in certain industries simply isn't meeting demand, and calls to end the "snootiness" between academic and vocational qualifications.
Also familiar was the suggestion that the economy is evolving, at speed, as technology changes the way we live.
Coronavirus has, it's argued, accelerated the latter trend with, for example, more working from home and online shopping.
And that therefore the task of re-directing workers into industries where there's a shortage of workers has been made more urgent.
With fears unemployment will continue to rise, particularly in hospitality and retail, the government is saying that there will be more support for retraining.
But this announcement also comes a week after ministers opted for measures such as the 10pm curfew in bars and pubs.
That's led to accusations that this government is actually causing job losses in already hard-hit sectors.
With that in mind,