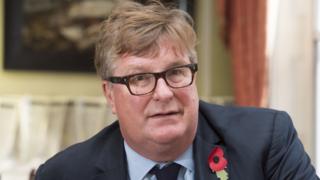 Image copyright Shutterstock
Crispin Odey, one of Britain's highest-profile hedge fund managers and political donors, has been charged with indecent assault.
He is alleged to have assaulted a woman over the age of 16, at an address in Chelsea in July 1998, the Crown Prosecution Service said.
Mr Odey, a backer of Brexit and Boris Johnson, was charged on 14 May.
In a short statement, Mr Odey said: "The allegation is denied and I will strongly contest this matter."
The latest Sunday Times Rich List says Mr Odey, 61, and his wife are worth £825m.
Mr Odey established Odey Asset Management in 1991. He went to Harrow School and then studied H