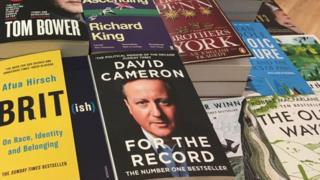 David Cameron's critics have had a field day on social media sharing pictures of his autobiography, For The Record, in a bookshop reduced from £25 to £3.
The former primer minister's book was released last year and has recently come out in paperback.
Broadcaster Iain Dale, who has published more political memoirs than most, when he ran the Biteback imprint, and who once unsuccessfully stood as a Tory election candidate, says such price reductions are "absolutely standard" and not an indication of poor sales.
So how does Mr Cameron's book sales really compare to other prime ministers' memoirs?
Nielsen Book Research has been gathering the data since 1998 – since when four prime ministers have published accounts of their time in office.
Way out in the lead is Tony Blair, Labour prime minister from 1997 – 2010, who sold 349,901 copies of A Journey.
In a distant second is Conservative Sir John Major – whose book came out in 1999 – with 91,513 sales, followed by Mr Cameron on 63,513.
In last place we have Gordon Brown. His My Life, Our Times sold 28,298.
They were all outstripped however by ex-US President Barack Obama, whose early memoir Dreams From My Father has sold 755,000.
In terms of first week sales, Tony Blair clocked up 92,060; David Cameron, 20,792; John Major, 5,415 and Gordon Brown 3,309.
Skip Twitter post by @johnharris1969
— John Harris (@johnharris1969) September 24, 2020
End of Twitter post by @johnharris1969
Mr Dale – whose own book, Why Can't We All Just Get Along: Shout Less. Listen More, has recently been published – says it is very difficult for a politician to write a bestselling memoir.
'A work of fiction about one side'
"You have to be a prime minister or someone of real notoriety," he says "and even then the sales aren't as big as football players or major league celebrities".
"I think prime ministers' books are quite difficult ones to get right.
"Political autobiographies are described as works of fiction about one side – that is a trite comment but anybody who writes an autobiography is inevitably going to present their side of their story."
However, he argues the better books usually include acknowledgements of where the politicians went wrong. David Cameron and Gordon Brown's books did this well, he says, Margaret Thatcher's less so.
Sometimes the more interesting books can come,