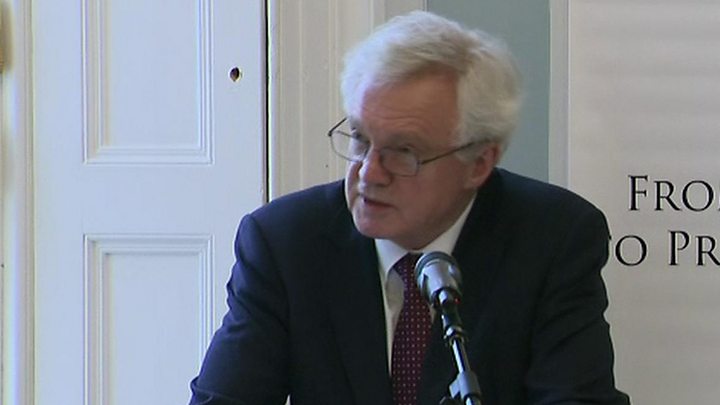 Media playback is unsupported on your device
Media captionDavid Davis: "The future of the UK economy does not lie with the EU, but with the wider world."
Former Brexit Secretary David Davis has attacked government estimates that show leaving the EU will make the UK worse off – calling it "project fear 2.0"
The Tory backbencher said forecasts by the Treasury are often proved "wrong" and are based on "flawed assumptions".
He again called for MPs to reject Theresa May's "bogus" Brexit deal.
The Treasury says the economy could be up to 3.9% smaller after 15 years Mrs May's plan, compared with staying in the EU.
But they claim a no-deal Brexit could deliver a 9.3% hit.
Chancellor Philip Hammond said the deal was not just about the economy, but would deliver "political benefits".
Speaking at an event held by the Economists for Free Trade in London, Mr Davis, who quit the cabinet over Mrs May's Brexit plans, said the government figures were part of a "propaganda onslaught" ahead of a vote on the deal on 11 December.
He said: "Treasury forecasts in the past have almost never been right and have more often been dramatically wrong."
Mr Davis said predictions that the economy in the UK would contract by 2.1% in the 18 months after the referendum were unfounded – in fact it grew by 2.8% – along with other concerns around unemployment and incomes.
"None of this spine-chilling nonsense came to pass," he said.
'Incalculable' damage
The prominent Brexiteer also used his speech to continue his criticism of Mrs May's withdrawal agreement for leaving the EU and the political declaration for the future relationship.
He said that it would leave the UK subject to EU single market rules and "annexes" Northern Ireland.
Any MP voting in support of the PM's deal would "repudiate" the wishes of the public and cause "incalculable" damage to the country's democracy, Mr Davis added.
And he claimed it would also deprive the UK of the "chief economic benefits" of Brexit by stopping it from negotiating free trade deals around the world.
But Mr Davis had no fear around leaving with a no deal and reverting to World Trade Organisation rules, saying it would "involve all the choking tentacles of the EU falling away".
"The future of the UK economy does not lie with the EU but with the wider world," he said.
The government earlier published a 83-page document on the long-term economic impact of Brexit on the UK.