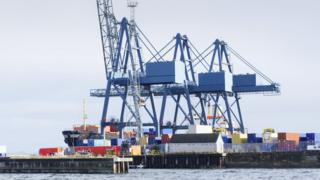 Image copyright Getty Images Image caption Researchers say Scotland could face a 5.5% loss of output
A disorderly Brexit risks a deep recession in Scotland, according to researchers.
The Fraser of Allander Institute (FAI), part of the University of Strathclyde, predicts a loss of more than one £1 in every £20 of output from the economy.
It suggests the fall from peak to trough in the economy could be around 5.5% of total output, contracting for two whole years.
This is in line with forecasts made by the Bank of England for the UK economy.
The FAI modelled several possible Brexit outcomes and the impact in its latest economic commentary. This included scenarios of a no-deal Brexit with and without policy response.
Possible growth
Despite the potential for loss, researchers expect the damage to be offset by action taken by governments and the Bank of England.
And the FAI has set out a possible growth path for the Scottish economy which could see it outperform current estimates if Brexit is well-managed, business confidence returns and investment picks up.
The central forecast for the economy is slightly weaker than the last such report from the economics institute.
It predicts only 1.1% growth this year, followed by 1.4% next year and 1.5% the year after.
While much economic attention has been focused on Brexit in recent months, the economists warn that major questions are being ignored or avoided by governments in Edinburgh and London.
Reflecting on the difference made by the Scottish parliament 20 years after it was first elected, Wednesday's report says the weakest part of its performance has been "the lack of evaluation and scrutiny of the effectiveness and value of policy initiatives".
It questions whether there has been any progress on a Whitehall initiative to find ways for governments and their agencies to work better together in the interests of the Scottish economy.
'Scale back oil'
It says there should be a renewed focus on sustainable growth, after most targets set by the incoming Scottish government in 2007 have been missed.
The report says there is a need to address big structural changes coming to the economy, including demographic change, the scaling back of the oil and gas sector, automation and emerging economies around the world.
Image copyright Reuters Image caption Nicola Sturgeon will reiterate her concerns about Brexit in a speech to the STUC annual congress in Dundee on Wednesday afternoon
At the same time, it says there should be an assumption that government budgets will remain tight,