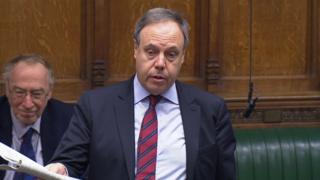 Image caption The DUP's Westminster leader Nigel Dodds has been critical of the government's decision not to publish the legal advice
The DUP has accused the government of having "something to hide" by not publishing the full legal advice it has received on the Brexit deal.
During an urgent question in the Commons, the solicitor general said the government would publish a "full reasoned statement" soon.
The attorney general will also answer MPs' questions in Parliament on Monday.
But the DUP's deputy leader, Nigel Dodds, said the Commons had already rejected the government's offer.
He said ministers were simply repeating the proposal that was made during a debate on the motion earlier this month.
'Start listening'
The DUP's MPs supported that motion – despite the confidence-and-supply arrangement it shares with the government.
Speaking in the Commons on Thursday, Mr Dodds said: "Why doesn't the solicitor general and the government start listening? That has been the problem all along."
"What has the government got to hide?"
Solicitor General Robert Buckland denied the claim, adding: "This is not an instance where the government seeks to delay or hide, this is about providing information at the right time."
A number of other MPs have expressed concerns that they will not be able to go through the legal advice in time before the vote on the government's Brexit deal.
The DUP has said Theresa May's Brexit plan is "worse than no deal", and has vowed to vote against it when the meaningful vote takes place on 11 December.
It has put a question mark over the future of the confidence-and-supply deal with the Conservative Party.
What is the confidence-and-supply arrangement?
The Conservative Party entered into the pact with the DUP after the general election in 2017, in order to give the prime minister a working majority in the Commons.
The DUP agreed to support the government on all Brexit votes, finance bills and the Budget and a number of other areas in exchange for an extra £1bn in spending for Northern Ireland.
But the fallout over Brexit has put the parties' relationship under significant strain – with the DUP abstaining and voting against the government last week during a budget vote, in a bid to warn the government to change course on Brexit.
Why is NI important in all of this?
Northern Ireland was the main sticking point in the Brexit negotiations, as the UK and EU were at odds over how to ensure no hard border –