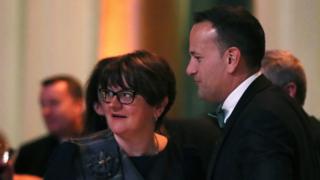 Image copyright Brian Lawless/PA Image caption Arlene Foster and Leo Varadkar attended the same event in Washington DC on Wednesday
A vote by MPs to ask for a Brexit delay has been welcomed by Leo Varadkar.
The taoiseach (Irish prime minister) said the vote "reduces the likelihood of a cliff edge, no-deal Brexit".
Theresa May said Brexit could be delayed by three months, to 30 June, if MPs back her withdrawal deal in a third vote, but could be delayed for longer if they reject her deal again.
Mr Varadkar urged the UK government to make clear the purpose of an extension "and how long it would last".
'Generous response'
The vote in the Commons on Thursday night, means the UK may not now leave on 29 March as previously planned.
Any delay has to be agreed by the other 27 EU member states.
On the EU agreeing a potential delay, Mr Varadkar said: "We need to be open to any request they [the UK] make, listen attentively and be generous in our response."
The taoiseach said a potential further delay would be discussed at a European Council meeting later in March.
Mr Varadkar's remarks follow comments by Ireland's Tánaiste (Deputy Prime Minister) Simon Coveney, who said a Brexit extension of 21 months is possible.
'Final negotiations'
Earlier on Thursday DUP leader Arlene Foster said it was possible a deal on Brexit could still be reached in the coming weeks.
Image copyright AFP/Getty Images Image caption The European Commission has warned there will be no further negotiations or clarifications on the Brexit deal
The "final part of a negotiation" is when it matters most, the DUP leader said, as it is "when you start to see the whites in people's eyes".
Her party is in discussions with the government, amid reports it could back the PM's Brexit deal.
This follows MPs' rejection of the idea of leaving the EU with no deal.
Mrs Foster, who is attending St Patrick's Day events in Washington DC this week, said DUP representatives were speaking to the government and Attorney General Geoffrey Cox about changes to the deal.
"Nobody wants to leave without a deal and we want to make sure we get there," she told BBC News NI.
The government's deal was rejected for a second time on Tuesday in Parliament.
'Brexit tests'
The DUP leader said her party wanted the UK to leave the EU with a deal,