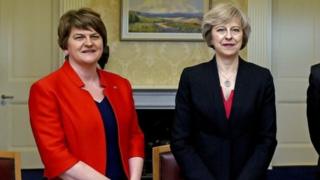 Image copyright PA
The Democratic Unionists will back Theresa May's government in any vote of no confidence should her Brexit deal be rejected, its Westminster leader says.
Nigel Dodds told ITV his party would vote against the deal, but it would be "illogical" to vote out the government.
Labour has said it will immediately press for a confidence vote if the deal is voted down next Tuesday.
If successful, the move could trigger a general election if no alternative government is formed in 14 days.
Mr Dodds told ITV's Robert Peston: "Clearly if [the deal] is defeated, it would be somewhat illogical – having achieved our aim trying to get to a better deal – it would be illogical then to turn around the next day and say 'let's vote the government out'.
"I think then we start on a process to try to get a better deal."
Following a meeting of Conservative members of the pro-Brexit European Research Group in Westminster – attended by leading DUP figures – its chair Jacob Rees-Mogg said there was a risk of the DUP withholding its support for the government if Parliament approved the PM's deal on the terms of leaving the EU.
The vote on the withdrawal deal and the declaration on future relations will take place on 11 December.
The DUP currently has a parliamentary pact with the Conservatives, known as a confidence and supply agreement, in which it effectively props up Mrs May's government by supporting it in key votes.
But Mr Dodds reiterated that the deal "is with the conservative party, not with Theresa May or any particular politician".
The party's 10 MPs are expected to vote against the withdrawal deal amid anger over