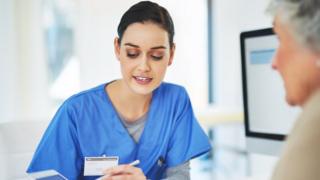 In the lead-up to the 2016 Brexit referendum, polls suggested immigration was seen as the most pressing issue facing the nation, not EU membership.
Today, concern about immigration is far lower, even though many of the underlying factors have not changed.
Whether or not we leave the EU, there are a huge number of unanswered questions over exactly what a reformed immigration system would look like.
EU immigration has fallen
For almost a decade, the number of migrants coming to the UK was the primary focus of the Conservative Party.
David Cameron pledged to push net migration – the balance of people arriving minus those leaving in any one year – below 100,000. He failed.
There is no doubt that many who back Brexit hope it will lead to greater control of immigration.
But recent immigration statistics clearly show leaving the EU may not affect the overall number of migrants coming to the UK, because of the continuing economic pull the country exerts on the rest of the world.
In the year to June 2019, an estimated 212,000 more people moved to the UK than left. Within that total, the number of EU citizens arriving was its lowest level since 2003.
At the same time, net migration from the rest of the world has continued to go up and now stands at an estimated 229,000.
'Control' not counting
Migration today is a fundamental part of the British economic landscape, as is the case for every other leading industrialised nation.
This narrative is now being adopted by all the main political parties, although it is being packaged in quite different ways.
Rather than making promises they will never be able to keep on numbers, all of the political parties are promising control and management.
The Conservatives pledge an "Australian-style points-based system" which will end freedom of movement.
In essence, this means that someone's chances of getting into the UK comes down to the skills they can offer. The party says this provides "real control".
The Brexit Party has also pledged to introduce a points-based system, and promised to cut migration to the UK to 50,000, although this figure did not appear in its manifesto.
Proposals for a points-based system are not remotely new. It is a rather staggering 14 years since a Labour government first used these words – but the resulting system looks nothing like the Australian model because it has been constantly tinkered with by successive governments.
So creating an Australian system would be a massive undertaking and could take years to implement.