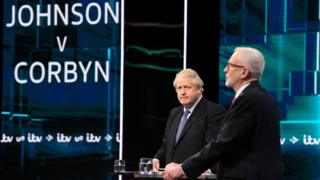 Image copyright Reuters
The first election debate between Boris Johnson and Jeremy Corbyn saw a dash of anger, an unsettling amount of laughter, and thankfully no tears.
Here are five key moments from the hour-long ITV programme:
The NHS and Brexit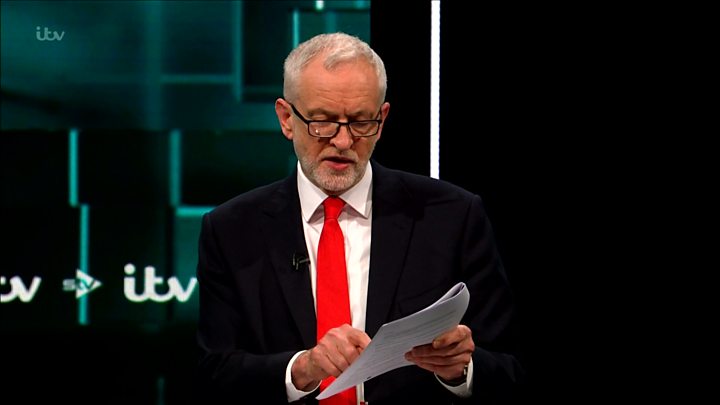 Media playback is unsupported on your device
Media captionMoment Corbyn produces 'NHS dossier'
Jeremy Corbyn was always likely to attack Boris Johnson over his familiar claim that the NHS is going to be thrown open to US pharmaceutical giants as the price of a post-Brexit trade deal.
The PM has labelled this a conspiracy theory in the past, but the Labour leader had come armed with a visual aid – a redacted account of "secret meetings" the government had with US trade officials, "in which they were proposing to open up our NHS markets, as they call them, to Americans".
It provoked the first real flare-up of the debate.
Mr Johnson said it was "absolute nonsense" and "completely untrue", adding, for good measure, "our NHS will never be for sale".
You can read our fact check on both parties' claims about the NHS here.
The monarchy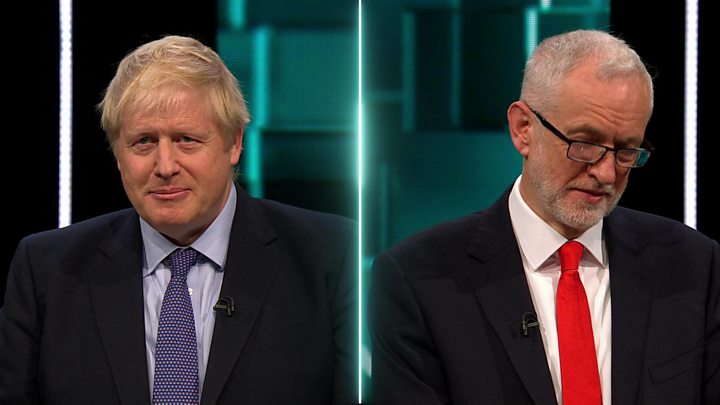 Media playback is unsupported on your device
Media captionBoris Johnson says monarchy "beyond reproach"
Another tense item up for discussion among politicians right now is Prince Andrew and the ongoing questions regarding his relationship with US businessman and convicted sex offender Jeffrey Epstein.
In this debate, the exchange started innocently enough, with a quickfire question to both leaders about what they thought of the monarchy.
Mr Corbyn faced some boos, but applause too, when he said: "Needs a bit of improvement."
But with Prince Andrew's BBC Newsnight interview fresh in people's minds, Mr Johnson received a similar response when he said: "The institution of the monarchy is beyond reproach."
The pair were then asked if the prince himself was beyond reproach, to which Mr Corbyn said the focus should be on the victims first.
"I think there are very, very serious questions that must be answered and nobody should be above the law," he added.
Mr Johnson said "all our sympathies" should be with the victims of Epstein, before adding: "The law must certainly take its course."
The handshake
Image copyright Reuters Image caption ITV's Julie Etchingham encouraged the leaders to shake hands
The two leaders were questioned on the tone of the debate in the run-up to the election – something that has dogged Westminster for many months.
But ITV's host Julie Etchingham tried a new tactic to solve the ongoing bad blood between rival parties.
She asked Mr Johnson and Mr Corbyn if they would "make a gesture"