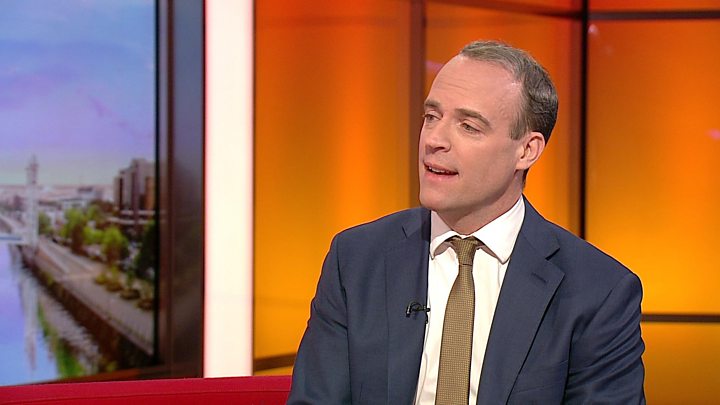 Media playback is unsupported on your device
Media captionDominic Raab defends the rebranding: "No-one gives a toss about social media cut and thrust"
Senior Tories have dismissed criticism of the rebranding of one of their Twitter accounts as a "fact-checking" site during the leaders' debate amid claims it deceived the public.
The @CCHQPress account – the Tory press office – was renamed "factcheckUK" for the duration of the hour-long TV show.
Foreign Secretary Dominic Raab said "no-one will have been fooled" and they had the right to rebut Labour's claims.
But the Lib Dems urged the Electoral Commission to intervene.
In response, the watchdog said it did not have the powers to do so but it urged the parties to act with transparency and integrity.
Twitter rebuked the Conservatives, saying it would take "decisive, corrective" action if something similar happened again.
During the ITV debate between Boris Johnson and Jeremy Corbyn, the first ever televised head-to head encounter between Tory and Labour leaders, the party's press account changed its name and its appearance, telling people it was "fact checking Labour from CCHQ".
Its Twitter handle remained the same and it retained the blue tick – signalling that it is a verified account.
Mr Raab defended the move, which has attracted widespread criticism from non-partisan fact-checking bodies, telling the BBC "no one gives a toss about social media cut and thrust" and were only concerned about the substance of the arguments.
"It was pegged to CCHQ," he told BBC's Breakfast. "No-one looking at it for a split second will have been fooled – they can see it's from CCHQ."
'Competing claims'
He said there was "huge scepticism" among the public about what politicians were saying and the Conservatives had a right to set the record straight over "nonsense" claims the NHS would be "up for sale" if they won.
"It matters that we have an instant rebuttal mechanism," he said. "We want to make it clear that we are holding Labour to account for the nonsense they systematically and serially put on the Conservatives.
"The reality is, voters will make of the competing claims what they will. What we're not going to do – we won't put up with nonsense that the NHS is up for sale being put up by Jeremy Corbyn."
Conservative Party chairman James Cleverly, who is responsible for the party's digital campaigning team, said he was "absolutely comfortable" with the move – saying the nature of the site was "clear".