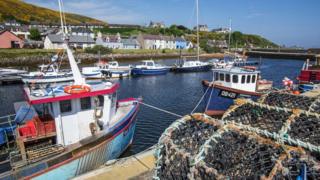 Image copyright Getty Images
Claim: UK fishermen were "throwing back a million tonnes of fish dead" every year because of the EU's Common Fisheries Policy (CFP), according to Conservative MP Owen Paterson.
Reality Check verdict: No one has ever come up with a credible figure of one million tonnes for UK fishermen alone. It's true that UK fishermen were required by EU rules in the past to throw back unwanted or undersized fish – although exactly how much is not known. The EU started reversing these rules in 2016 and by 2019 vessels weren't allowed to throw back any fish subject to quotas. There's some evidence discarding is still happening, though, despite the rule change.
The Conservative MP and former Environment Secretary Owen Paterson told BBC Radio 4's Today programme that Brexit would allow the UK to become "an independent maritime nation" and "stop the complete horrors" of the EU's Common Fisheries Policy (CFP).
He said, under CFP rules, UK fishermen were "throwing back a million tonnes of fish dead as pollution every year".
The UK remains part of the Common Fisheries Policy – which sets the rules on how EU members fish – until the end of the transition period, at the end of this year. The system that will replace it is still up for negotiation.
So what do the rules say?
Until relatively recently, EU member states – including the UK – were required to throw some fish back into the water.
This controversial practice was known as "discarding" and involved returning unwanted catches back to sea (dead or alive) because they were too small or because the crew had exceeded their quota – the amount of fish they were allowed to catch.
How many fish were discarded?
There is no single accepted figure for this.
A 2005 study estimated that 500,000 to 800,000 tonnes of fish were discarded in the North Sea each year, but it did not attribute this to any one country.
In 2008, a report from the World Wide Fund for Nature (WWF) put the figure for the North Sea at one million tonnes. Again it did not single out the UK. This was calculated by subtracting kilos of fish sold from kilos of fish caught.
In 2010, University of Exeter scientists put the figure at 267,000 tonnes of fish discarded in the North Sea in 2010 – and said this figure had declined from about 500,000 tonnes in 1990.
A House of Lords report published in 2019 said that in 2013 an estimated 1.7 million tonnes of fish and "other marine animals"