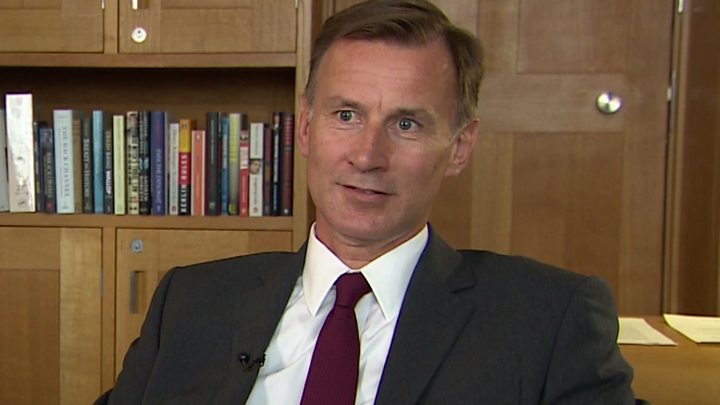 Media playback is unsupported on your device
Media captionJeremy Hunt: "Catastrophic failure in statecraft" could prevent Brexit deal
Former Foreign Secretary Jeremy Hunt has issued a plea to EU foreign ministers to avoid a "catastrophic failure in statecraft" over Brexit.
He has urged them in an open letter to reach a compromise with Prime Minister Boris Johnson while they still can.
Delaying Brexit would only increase the chances of a no-deal exit, he warned.
"If they think this is bad – just wait until what happens after Boris wins an election," he told the BBC's Laura Kuenssberg in an exclusive interview.
Mr Hunt – who lost out to Mr Johnson in July's Conservative leadership contest – has written to the 27 EU foreign ministers, urging them to show greater flexibility in talks with the UK.
In his interview with Laura Kuenssberg, he said: "I think we could be about to see a catastrophic failure in statecraft, not because of malevolence by the EU. I think they are sincere in wanting a deal.
"But just because they haven't really understood what's happening in British politics right now.
"And there is bureaucratic inertia. If you're trying to get 27 countries to agree a common position the easiest thing is always to do nothing. And that's the risk we face."
Skip Twitter post by @bbclaurak
In his 1st big Brexit intervention from Jeremy Hunt since he left Foreign sec job – urges EU to avoid a 'historic miscalculation' , writing to his former counterparts around the continent – our interview on #bbcnewsten in a min pic.twitter.com/08Hiqgs24I
— Laura Kuenssberg (@bbclaurak) October 9, 2019
End of Twitter post by @bbclaurak
Mr Hunt, who backed Remain in the 2016 EU referendum but went on to be a strong supporter of Mrs May's withdrawal agreement, quit the cabinet in July after Mr Johnson attempted to remove him as foreign secretary.
He told the BBC Mr Johnson had made mistakes in his handling of Brexit, although he declined to say what they were, but stressed they both agreed on the need for a speedy resolution to Brexit.
He argued that the EU had been guilty of misreading the political situation in the UK in the past – over David Cameron's ill-fated renegotiation attempt in 2015 and Theresa May's withdrawal agreement – and could do so again.
"My worry is that they're about to make the same profound miscalculation that 'oh we can just hang tight,