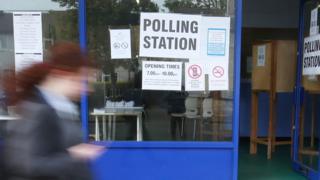 Image copyright PA
EU citizens living in the UK have told of their anger after they were unable to vote in the European elections.
The Electoral Commission said the "very short notice" from the government about the UK's participation in the elections had an impact on the process.
EU citizens can vote in the country they live in by registering to vote and completing a UC1 form.
But many complained of receiving the form late and of it not being processed by their local authority in time.
A campaign group said thousands of people have been affected by the error.
The prime minister's spokesman recognised that there was "frustration".
The government announced on 7 May that the UK would be taking part in the European elections, having previously hoped that a Brexit deal would have been agreed by then.
In order to take part in the European elections in the UK, EU citizens needed to have returned a UC1 form by 7 May to their local authority, declaring they would not vote in another EU member state.
Citizens of Ireland, Malta or Cyprus are eligible to vote in the UK for European elections without having to make this written declaration.
Many people took to Twitter to say they were not sent the form or had received just days before the deadline – and that councils then failed to process the forms in time. Some others said they were unaware of the UC1 process that would have allowed them the right to a vote.
Within hours of the polling booths opening, the hashtag #deniedmyvote was trending on Twitter, with EU citizens saying they had been turned away from polling stations.
Image copyright MOritz Valero Image caption Moritz Valero said he wanted to make his voice "heard" through the vote
Moritz Valero, who is from Germany but has lived in the UK for nearly five years, told the BBC he and his partner received their UC1 form at the end of April.
He says he hand-delivered the completed forms to his local council, in east London, to make certain they arrived in time.
But when he turned up to his local polling booth on Thursday, he says he was told there was no record of their UC1 forms and they could not vote.
"I was absolutely shocked and appalled," he said. "They're taking away our basic rights and it's unacceptable.
"I want to make my voice heard through the vote."
'I tried to figure everything out'
Lisa van der Zanden, 26, who is from the Netherlands but has lived in Bristol for a year-and-a-half,