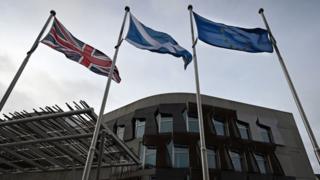 Image copyright Getty Images Image caption The European flag will now stay up at Holyrood even after the UK leaves the EU
The European flag is to continue flying outside the Scottish Parliament beyond Brexit after MSPs voted to keep it up.
Holyrood's management group had planned to lower the flag at 23:00 on Friday, the moment the UK leaves the EU.
However MSPs voted by 63 to 54 to overturn this decision after the Scottish government forced a debate.
Presiding Officer Ken Macintosh warned ministers not to politicise the issue, saying the flags flown at Holyrood "reflect our relationships in law".
The Conservatives, Labour and the Lib Dems argued that the "non-political" decision of the Parliamentary Corporate Body should be respected, but SNP and Green MSPs united to "direct" the group to keep the flag up.
The Scottish Parliamentary Corporate Body (SPCB) – a management group made up of an MSP from each of Holyrood's parties – had made the decision to remove the flag after Brexit, but to fly it each year on Europe Day.
However this has now been overturned after a brief but heated debate in the chamber, with the group pledging to abide by the result of the vote.
The motion passed by MSPs noted that Scotland and the UK would remain in the Council of Europe, and said the flag should stay up "as a sign of support and solidarity with those EU nationals who have made Scotland their home".
Image copyright Getty Images Image caption Fiona Hyslop said ministers did not take the decision lightly
Leading for the government, External Affairs Secretary Fiona Hyslop said MSPs should "stand firm in solidarity with all the EU citizens who live in Scotland" and keep the flag flying "as a practical demonstration of our regret" about Brexit.
She said ministers did