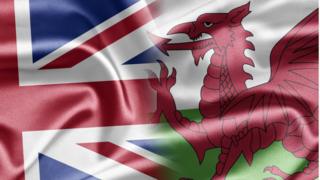 Image copyright Getty Images Image caption The British brand currently has "little traction" in key markets for Welsh farmers, according to industry promoters
The Welsh dragon emblem must be prioritised over the union flag when branding food and drink exports from Wales after Brexit, industry leaders have urged.
Meat Promotion Wales – Hybu Cig Cymru (HCC) warned research suggested British branding on products like lamb and beef could be a disadvantage in key markets.
Farming unions have supported the call.
The Welsh Conservatives said both flags should be used to promote Welsh produce abroad.
After Brexit, the UK Government intends to develop its own trade policy, and food and farming organisations have been lobbying hard about how their produce should be marketed.
The value of Welsh food and drink exports exceeded half a billion pounds for the first time in 2017 – with 77.3% destined for the EU.
A third of Wales' lamb and 97% of its shellfish was sent to the continent, or further afield to countries like South Korea, through EU trade agreements.
Gwyn Howells, HCC's chief executive, said the British brand currently had "little traction" in key markets for Welsh farmers and putting it on Welsh red meat exports in particular would "absolutely" be a disadvantage.
He pointed to a recent survey of 4,503 international consumers by the Agricultural and Horticultural Development Board (AHDB), which suggested a more negative perception of British food than positive in France, Germany, Japan, the USA and Canada.
Image caption Support for the 'British brand' differs from country to country (Source: AHDB)
BBC Wales understands no equivalent research has been done on international perceptions of Welsh food, but Mr Howells claimed "the Welsh offering" had more recognition and was "vastly more welcome" in these markets.
"We must prioritise the Welsh dragon – it's much more than a logo. It's a promise of where it has come from, the landscape of Wales, the traditional methods used to produce food to the highest standards, which adds value."
However, in India, China, Saudia Arabia and UAE, where AHDB survey feedback on British food was more positive than negative, he said there was arguably a role for deploying the union flag to try and gain access for Welsh producers – what he called "a twin-track approach".
Image copyright Getty Images Image caption HCC thinks the nation's brand is a "promise of where it has come from"
NFU Cymru director John Mercer said Wales had "a fantastic story to tell"