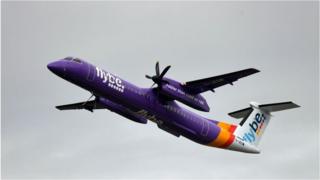 Image copyright Getty Images
British Airways' owner IAG has filed a complaint to the EU arguing Flybe's rescue breaches state aid rules.
The move comes amid a growing backlash against the government's plan to defer some of Flybe's air passenger duty payments, thought to top £100m.
EasyJet and Ryanair said taxpayer funds should not be used to save a rival.
Meanwhile, the government's proposal to cut Air Passenger Duty (APD, was attacked by the rail industry's trade body and climate campaign groups.
EasyJet chief executive Johan Lundgren said: "Taxpayers should not be used to bail out individual companies, especially when they are backed by well-funded businesses."
While Ryanair said it had called for "more robust and frequent stress tests on financially weak airlines and tour operators so the taxpayer does not have to bail them out".
The government has said the review of the tax will be consistent with its zero-carbon targets.
However, in a tweet, Green Party MP Caroline Lucas said: "Addressing Flybe problems by reducing APD on all domestic flights is utterly inconsistent with any serious commitment to tackle the Climate Crisis. Domestic flights need to be reduced, not made cheaper."
The Rail Delivery Group, which represents train operators, also said any review of APD "that encourages more people to fly domestically would limit efforts to tackle the climate crisis".
Image copyright Getty Images Image caption Willie Walsh, the chief executive of the owner of British Airways, said government money should not have been used
Ahead of filing the state aid complaint, Willie Walsh, the outgoing chief executive of IAG, wrote to Transport Secretary Grant Shapps, criticising the government's involvement in its rescue.
In a letter, Mr Walsh said: "Prior to the acquisition of Flybe by the consortium which includes Virgin/Delta, Flybe argued for tax payers to fund its operations by subsidising regional routes.
"Virgin/Delta now want the taxpayer to pick up the tab for their mismanagement of the airline. This is a blatant misuse of public funds.
"Flybe's precarious situation makes a mockery of the promises the airline, its shareholders and Heathrow have made about the expansion of regional flights if a third runway is built."
But Downing Street has said the government is "fully compliant" with state aid rules. The Prime Minister's spokesman said "there has been no state aid to Flybe," adding that "any future funding will be made on strictly commercial terms."