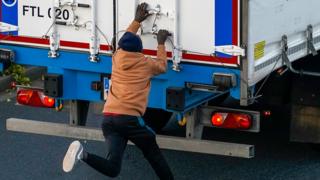 Image copyright Getty Images Image caption A man tries to climb onto a lorry in northern France
A hard or chaotic Brexit would make it "very easy" for illegal migrants to get into the UK, says a French MP.
Pierre-Henri Dumont told Radio 1 Newsbeat queues at custom checks would give people more opportunity "to sneak into trucks".
Charities say around 2,000 migrants are living on the French coast and many want to get to the UK.
The government says it always ensures it has the resources and workforce needed to keep the border secure.
More than 100 suspected migrants have attempted to cross the English Channel in dinghies to reach the UK so far this month.
An 18-month-old child was among nine people rescued by the Border Force on 27 November.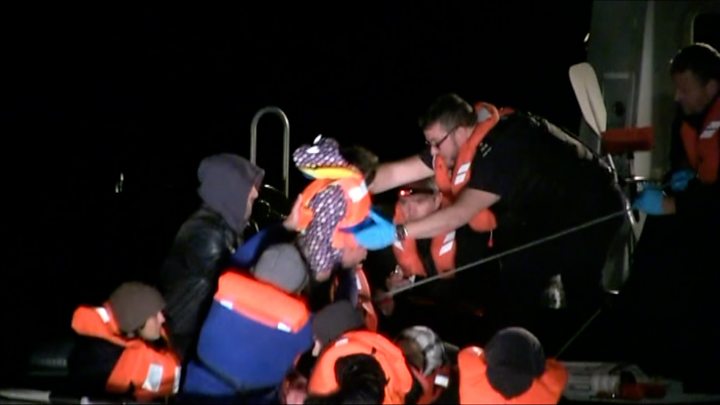 Media playback is unsupported on your device
Media captionTwo family groups, with four children in total, were found on the dinghy
A hard or no-deal Brexit would mean Britain would cut lots of ties with the EU.
This could mean giving up things like membership of the single market and the customs union and instead the UK would set up its own trade deals and rules.
The government's guidance papers on a no-deal Brexit say there's likely to be new requirements at borders with the EU if the UK leaves without a deal.
"It is possible that EU required checks at EU ports could create delays and also affect routes."
Mr Dumont is the MP for Calais and also looks at Brexit in the French parliament.
He believes a hard Brexit would make it "very easy for illegal migrants to come and try to sneak into the trucks" because of queues at customs checks.
Image caption Pierre-Henri Dumont is the MP for Calais
He says he thinks it's a "very huge irony" that some British voters thought leaving the EU would mean tighter borders and taking back control of immigration policy.
"British voters were voting with a false basis at the time of Brexit," he adds.
Newsbeat visited Calais and Dunkirk and spoke to people who had travelled from places like Afghanistan, Iraq and Eritrea.
"Some people are saying when the UK gets out of Europe it will need more people," one man told us.
"So they might make it easier, or maybe they will close the border and not let anyone in."
Image caption "I will never go back to my country I'd rather die here than go back", one man said
However,