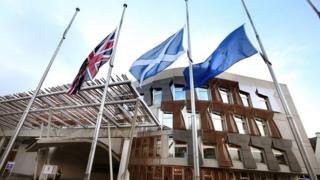 Image copyright PA
The Scottish and UK governments have clashed in a fresh row about how powers will be shared out post-Brexit.
Plans for how a UK-wide "internal market" will operate after the country leaves the EU have been published.
UK Business Secretary Alok Sharma told BBC Scotland that the move would see "the biggest transfer of powers in the history of devolution".
But Scottish Constitution Secretary Mike Russell said this was a "lie" and that powers would really be taken away.
The proposals were set out in a white paper, with legislation to follow later in the year.
When the UK cuts its final ties with the EU at the end of the Brexit transition period in the New Year, a raft of powers currently exercised from Brussels will return to more local control.
The Scottish and UK governments have been locked in a lengthy dispute about who will ultimately be responsible for issues such as air quality, animal welfare and food quality.
Many powers are set to be directly controlled by the Scottish, Welsh and Northern Irish administrations, in fields including food labelling, energy efficiency and support for farmers.
However, the UK government has said the devolved administrations will still have to accept goods and services from other parts of the UK – even if they have set different standards locally – to ensure a level playing field in the "internal market".
Scottish ministers believe this means standards across the country could be dragged down if the UK government makes concessions in new trade deals.
Image copyright Reuters Image caption Alok Sharma said it was important to give "certainty" to businesses
Mr Sharma told the BBC's Good Morning Scotland programme that the move was a "power surge" for the devolved administrations.
He said: "We've had a seamless UK internal market for hundreds of years and that's been very good in terms of free flow of goods and services within all part of the UK. Our plans are for this to continue after the transition period.
"Ultimately this is about certainty for businesses, its about protecting jobs and livelihoods and supporting investment decisions, it's going to be good for consumers as well and ultimately this is about underpinning the recovery.
"All devolved policy areas will stay devolved, and there will be the biggest transfer of powers in the history of devolution at the end of the transition period."
Common frameworks
There has been a long-running row over how "common frameworks" of regulations will work across the four nations, with UK ministers saying it is vital for "all UK companies to trade unhindered in every part of the UK".