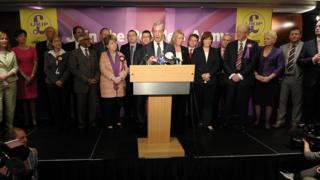 Image copyright Getty Images Image caption UKIP topped the polls in 2014 – but things have not gone to plan since then
In the 2014 European elections, UKIP defied expectations to become the largest British party in the European Parliament.
Twenty four UKIP MEPs were elected and the party won 27.5% of the vote – an achievement its then leader Nigel Farage described as "historic".
UKIP's success in these elections was one of the factors behind David Cameron promising a referendum on Brexit – as he feared losing more Conservative voters to UKIP.
However five years on from that election, only four of those 24 MEPs still represent the party.
So, where and why did they all go?
Post-referendum infighting: Expulsion, defections and a retirement
Image copyright PA Image caption Amjad Bashir was the first MEP to leave the party
Less than a year after being elected as a UKIP MEP in the 2014 elections, Amjad Bashir defected to the Conservative Party calling UKIP "pretty amateur".
However, UKIP said he had been suspended over financial and employment concerns.
In March 2015 Janice Atkinson was expelled from UKIP for "bringing the party into disrepute" following a newspaper investigation into an apparent expenses claim.
Image copyright AFP Image caption Diane James lasted 18 days as leader
Diane James's resignation followed a string of strange events in which she was elected leader of the party in September 2016 but stepped down just 18 days later – a move her long-serving predecessor Nigel Farage described as "yet another act of irrational selfishness".
Ms James, who now sits as an independent MEP, said it was "time to move on".
Image copyright UKIP Image caption Steven Woolfe was taken to hospital following an incident with a colleague in the European Parliament
Another bizarre twist followed when would-be successor Steven Woolfe went to hospital following an altercation with another MEP in the European Parliament.
He quit UKIP soon afterwards claiming the party was "in a death spiral".
In July 2017 Roger Helmer said he was stepping down, telling the BBC "I think at the age of 73 I'm perfectly entitled to retire".
The Bolton era: 'Countless leaks, briefings and character assassinations'
Image copyright PA Image caption Henry Bolton was never an MEP and quickly lost the confidence of the party as leader
In September 2017, Henry Bolton became UKIP's fourth leader in 18 months – following Paul Nuttall's decision to quit after the party lost ground in the snap general election.
However he quickly became mired in a row over his personal life when his partner,