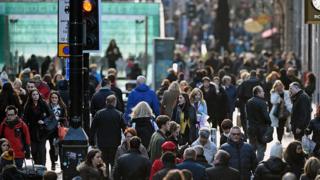 Image copyright Getty Images Image caption The Gers figures estimate the total amount of money spent on public services in Scotland
Scotland's public spending deficit has fallen by a further £1.2bn over the past year, according to Scottish government statistics.
The Government Expenditure and Revenue Scotland (Gers) estimated the country spent £12.6bn more on public services than it raised in taxes.
This is lower than the £13.8bn deficit estimated for the previous year, and is equivalent to 7% of the country's GDP.
The UK as a whole has a deficit of £23.5bn – or 1.1% of its GDP.
The annual Gers figures, which have become a key battleground in the independence debate, are compiled by Scottish government statisticians free of political interference.
They estimated the total amount of money spent that "benefits the residents of Scotland" by the Scottish government, UK government, and all other parts of the public sector in Scotland under the current constitutional arrangements, as well as the total amount of revenue raised by taxation.
What do the Gers figures say?
Image copyright Getty Images Image caption Revenue from the North Sea oil and gas industry was marginally higher than the previous year
The report said that Scotland raised a total of £62.7bn for the public purse in 2018/19 – about £2.9bn more than the £59.8bn it raised the previous year.
However, the amount the country spent on its public services increased by about £1.8bn from £73.5bn to £75.3bn.
The report also estimated that Scotland raises £307 less per person than the UK average in taxation, while public spending was about £1,660 per person higher than the UK average.
Revenue from the North Sea oil and gas industry was similar to the previous year, increasing marginally from £1.42bn to £1.43bn. The industry raised £8bn in revenue in 2011/12, but hit a low of £50m five years later.
Last year's Gers figures originally estimated that the country had a £13.4bn deficit in 2017/18, but this was revised up to £13.8bn in the latest statistics.
What has the reaction been?
Image copyright Getty Images Image caption Finance Secretary Derek Mackay, pictured here with First Minister Nicola Sturgeon, said Scotland's economy remains strong
The Scottish government's finance secretary, Derek Mackay, said the country's revenues had exceeded £60bn for the first time, which he said reflected the strength of Scotland's economy.
Mr Mackay added: "Our notional deficit has fallen while public spending has increased thanks to our efforts to grow the onshore economy and the strong performance of taxes in Scotland."
But he warned that a no-deal Brexit could reduce revenues in Scotland by about £2.5bn a year –