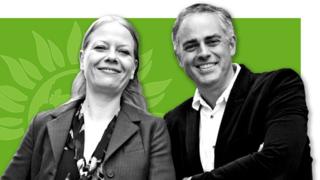 The Green Party of England and Wales primarily exists to champion environmental causes but is keen not to be seen as a single-issue campaign party and has policies in all areas.
There are separate Green parties in Scotland and in Northern Ireland.
Who is the leader?
For many years, the Greens did not have a leader, just "principal speakers", to distance themselves from the traditional Westminster power structures.
Now they have two leaders – Sian Berry and Jonathan Bartley.
Blues musician Mr Bartley has held the leadership role for longer – having also split duties with Caroline Lucas from 2016 to 2018. He worked on former Conservative Prime Minister John Major's leadership campaign in 1995 and has previously appeared on BBC Radio 4's Thought for the Day.
London Assembly member Ms Berry replaced Ms Lucas last year. She is also the party's candidate in the London mayoral elections next year – her third attempt at landing the role, having most recently finished third in 2016.
What does it need to do to win the election?
The Greens are not expected to be the outright winners in the forthcoming election – having taken 1.6% of the total vote last time round in 2017. They had one MP in the last Parliament, Caroline Lucas.
However, the party had its most successful European election earlier this year, when it increased its number of MEPs from three to seven.
The party is planning to enter candidates in 498 of the 650 constituencies – more than ever before.
Five key election pledges
The party published its manifesto called If Not Now, When? on 19 November. It sets out the polices the party aims to introduce, should it win the election.
Here are five policies that featured in it:
Invest £100bn a year to reach net zero carbon emissions in the UK by 2030
Pursue a "green new deal" including a structural transformation of the way the economy works
Increase funding for the NHS by at least £6bn per year, until 2030
Oppose Brexit and hold another referendum on membership and will campaign to Remain in that vote
Abolish university tuition fees and write off existing student debt
Where does it stand on Brexit?
The Green Party supports having another referendum on EU membership, in which it says it will back Remain.
It has struck a deal with other pro-Remain parties –