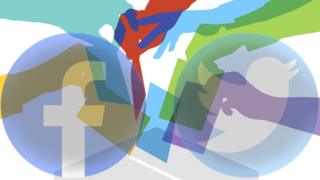 Image copyright Getty Images
A campaign group is calling for fact-checking of political advertising to be a legal requirement after what it describes as a "fake news and disinformation general election".
The Coalition for Reform in Political Advertising says at least 31 campaigns from across the party spectrum have been indecent, dishonest or untruthful.
The non-partisan body is made up of advertising professionals.
It says the next government must create a new regulator to oversee the matter.
The organisation also suggests 87% of voters think there needs to be a law to compel political-ad creators to make only truthful claims.
The figure is based on a survey of 1,691 adults conducted by YouGov on the Coalition's behalf.
'Significant problem'
The Coalition says the largely unregulated world of election ads bears little resemblance to one of the founding principles of retail advertising, namely that ads should be "legal, decent, honest and truthful".
Political post controversy
Breakdown of 31 flagged ads
Source: Coalition for Reform in Political Advertising