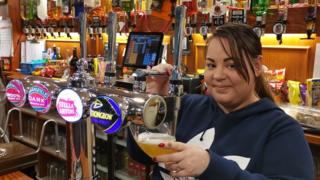 On a street in the Nottinghamshire town of Arnold, there is a Liberal club, a Labour club and a Conservative club, all within a five-minute walk of one another. But how much do the people who patronise these establishments actually care about politics?
There's an intense silence among the members of Arnold's Balfour Conservative Club as the president calls out numbers. That's because Wednesday night is bingo night – and bingo night is taken seriously. Certainly more seriously than politics.
In the lull between the rounds, 82-year-old Shirley Wilmot, who has always voted Labour, says she's never really thought about the club's Conservative connections.
"I'm a member of the Liberal club and the Labour club as well," she says. "But this is my favourite because it's so friendly.
"I go to the Liberal on a Saturday because they have two artists on, here on the Wednesday for the bingo and the Labour club on Sunday for the dinner. They're not political places."
Image caption The Labour club is seen by its regulars as a handy place to go for a cheap pint served by friendly staff
Just down the road at the Arnold Labour Club, president John Wood, 60, would agree with that sentiment.
He says its link to the party ended about 10 years ago and that the association had become "damaging". He is even looking to change the club's name.
Of the nine people asked at the Labour club, not one could say they would definitely vote for the Labour Party, and a few know they certainly will not.
Among them is Ann Rogers, 50, a member of a motorbike group which meets there weekly.
"I come for the friendly people and the amazing bar staff," she says. "I've been here for four years and never heard anyone talk about politics. It's just a name over the door. It doesn't matter if you support Labour or Conservative, you're welcome here.