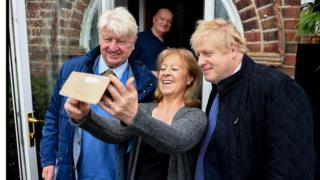 Image copyright Andrew Parsons / i-Images
A battle is raging in a commuter town on the outskirts of London to unseat Boris Johnson – a prime minister defending the smallest constituency majority for nearly 100 years.
A carnival floods the streets of Uxbridge. With glitter on their faces, a sea of young people follow a red Routemaster. Loud music booms from the open-top bus.
Despite the rain, residents dance along with the parade as it snakes through the west London suburb, which lies 17 miles from the Houses of Parliament. Others watch with disgust as the group's occasionally lewd banners pass by. One of the less offensive reads: #KickBorisOut. Flyers are thrust into the hands of bystanders, urging them to register to vote.
The rally is run by an anti-Tory group which says people here are fed up with an MP who is a "power-hungry Eton boy who lives in a million-pound house on the other side of London". That MP happens also to be the prime minister. But could Boris Johnson actually face defeat in Uxbridge and South Ruislip?
Last month, election modelling by YouGov estimated Mr Johnson was on course to win his seat comfortably. Yet a member of the protest group was undeterred. "From what we're seeing, he should be worried."
Image copyright EPA
The A40 splits Uxbridge and South Ruislip in half. Depending on which side of the road you live could mean an eight-year gap in your life expectancy. Voters living in Eastcote, in the affluent north of the borough, can expect to reach 84 years of age. Those living in Botwell, in the poorer southern tip, tend to make it just past 76.
The south of the constituency is dominated by a large student population, centred on Brunel University. And this commuter-belt corner of London, 15 miles or so from Parliament itself, has a large, has an affluent immigrant population, mostly of South Asian heritage. The streets here are lined with independent shops and market stalls. An entrepreneurial spirit runs through the town, and two major infrastructure projects bear down on it – both of which could influence the election here. The first phase of the HS2 high-speed railway passes through Ruislip. But a bigger issue looms overhead.
Heathrow airport is in the next-door constituency, where a third runway is expected to bring an extra 730 flights a day. Mr Johnson is seen as particularly vulnerable over Heathrow.
Before reaching government he was a vocal critic of the airport's expansion. As mayor of London he vowed to "lie down with you in front of those bulldozers and stop the… runway". Yet, as an MP, he was a notably absent in June 2018 when Parliament voted for the project.
Last month, Greenpeace protesters gave him the chance to fulfil his promise,