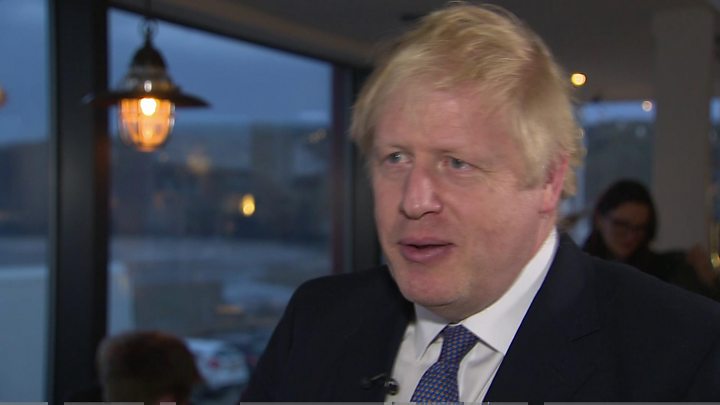 Media playback is unsupported on your device
Media captionBoris Johnson says he wants to "help people with the cost of living"
Boris Johnson aims to change National Insurance rules so workers will not have to pay it until they earn £12,500.
The Tory leader earlier said his party would put up the threshold to ensure "low tax for working people" if it wins the general election.
But he later confirmed to the BBC it would be raised to £9,500 in the first budget of a Tory government, with no timetable for the additional £3,000.
Labour said the reduced revenue would harm public services.
The current threshold sees workers paying National Insurance contributions once they earn £8,628 a year.
Mr Johnson had promised to raise the threshold to £12,500 during the Tory leadership contest.
He told the BBC this was now an "ambition" of his government and a timeframe would be announcement at their first budget if they are elected.
But the PM said bringing in the £9,500 threshold sooner would "help with the cost of living" and "put £500 in the pocket of everybody" – although a later press release claimed the saving would be around £100 per person.
Both figures are still higher than the estimate of the Institute for Fiscal Studies, who said the threshold would save workers about £85 per year and cost the government £2bn.
An earlier estimate by the independent economic think tank said a rise to £12,500 – which would match the threshold where workers start paying income tax – would save workers up to £465 a year, and cost the government £11bn.
But Xiaowei Xu, a research economist with the IFS, said without knowing the proposed timescale of the increase "we do not know how big a policy this is".
On a visit to an engineering plant in Teesside, Mr Johnson was asked by one of the workers whether his pledges for low tax were "for people like you… or people like us".
The PM said: "I mean low tax for people… working people.
"We are going to be cutting national insurance up to £12,000 [and] we are going to be making sure that we cut business rates for small businesses. We are cutting tax for working people."
BBC political correspondent Nick Eardley said it sounded like Mr Johnson had accidentally revealed his big election tax pledge.
He later had to correct the figures in an interview with the BBC, revising it to a £9,500 threshold next year,