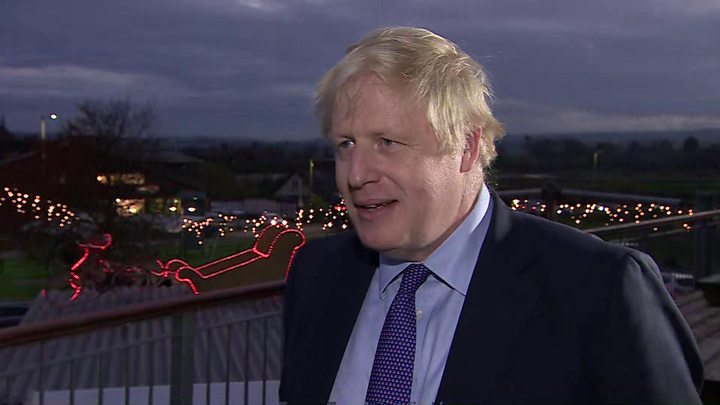 Media playback is unsupported on your device
Media captionWatch: Boris Johnson refuses to commit to Andrew Neil interview
Boris Johnson has refused to say whether he will take part in a BBC interview with presenter Andrew Neil.
The leaders of Labour, the SNP, the Lib Dems and the Brexit Party have all agreed to be questioned for 30 minutes by the journalist.
But when asked several times by the BBC's Ben Wright if he would appear, the prime minister would not confirm it, saying he would have "all sorts of interviews with all sorts of people".
Labour accused him of "running scared".
On Wednesday, the BBC Press Office tweeted it was "in ongoing discussions" with No 10, but said they had not "yet been able to fix a date" for the sit-down discussion between Mr Neil and the PM.
Conservative leader Mr Johnson – who faced Andrew Neil during the Conservative leadership election in July – confirmed negotiations were still taking place, but he said it was "not my job" to make the final decision.
He added: "Other people than me are responsible for those discussions and negotiations, and I do not want to pre-empt what they may decide."
When it was put to Mr Johnson that his critics would say he was avoiding scrutiny, he replied: "I'm very happy to submit to all manner of scrutiny, all manner of debates and have done so, and lots of conversations are happening about that matter right now."
SNP leader Nicola Sturgeon and Labour leader Jeremy Corbyn took part in interviews with Mr Neil earlier this week.
The BBC's interview with Lib Dem leader Jo Swinson is set to air on 4 December and another with Brexit Party leader Nigel Farage will be shown on 5 December.
Labour Party chairman Ian Lavery said of Mr Johnson: "He's running scared because every time he is confronted with the impact of nine years of austerity, the-cost-of-living crisis and over his plans to sell out our NHS, the more he is exposed."
In a separate row, Channel 4 News has criticised Mr Johnson and Brexit Party leader Nigel Farage for declining invitations to take part in a debate about climate change.
Image copyright PA Media Image caption Channel 4 replaced Boris Johnson with an ice sculpture
The hour-long Emergency On Planet Earth debate features Labour leader Jeremy Corbyn, Liberal Democrat leader Jo Swinson, Scottish First Minister and SNP leader Nicola Sturgeon, Plaid Cymru's leader Adam Price and Green co-leader Sian Berry.