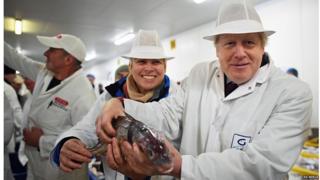 Image copyright PA Media
Boris Johnson is touring Brexit-voting Labour-held seats in Humberside and north-east England, with three days to go before polling day.
In a speech later in Sunderland – 61% of which voted to Leave – the PM is expected to tell voters: "The Labour party has let you down."
He will attack Parliament, saying it has "delayed" and "denied" Brexit.
Mr Johnson will also travel to south-west England, where he will warn against voting for the pro-EU Lib Dems.
Meanwhile, shadow chancellor John McDonnell will set out Labour plans to deliver a budget to "end austerity" within its first 100 days if the party wins Thursday's election.
In a speech in London setting out his priorities, he will also pledge to get "money moving out of Whitehall and the City".
The Liberal Democrats are, meanwhile, pledging to table legislation to stop Brexit immediately after the election by introducing two draft bills they say would pave the way for another EU referendum.
The first would enable the Electoral Commission to start the necessary consultation around a referendum question and lead campaign designation – and the second would provide a referendum on the government's Brexit deal versus remaining in the EU.
Lib Dem leader Jo Swinson told Radio 4's Today the "most likely way" to stop Brexit was through another vote as the possibility of her party winning power on its own and revoking Article 50 looked increasingly remote.
'Sunderland's roar'
The Conservative Party says the prime minister is intending to "visit every region in England and Wales" in the final three days, with a message that a vote for his party is a vote to "get Brexit done and unleash Britain's potential".
He started the day at a fish market in Grimsby, one of a number of longstanding Labour constituencies that voted heavily to leave the EU in the 2016 referendum that both the Conservatives and the Brexit Party are targeting.
On a visit to Sunderland later, Mr Johnson is expected to say: "It's now been 1,264 days since Sunderland's roar was heard on the night of 23 June 2016.
"1,264 days in which parliament should have delivered what you voted for, taken us out of the EU, and addressed all the reasons you voted so decisively for change."
Image caption Campaigners in Sunderland celebrate the 2016 EU referendum result
He will attack Parliament,