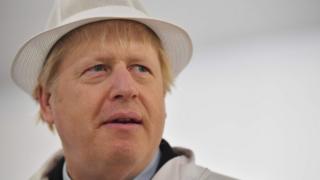 Image copyright AFP/Getty Images
Putting Boris Johnson's plan for Brexit into action will be a "major" challenge for government due to new customs arrangements for Northern Ireland, according to a leaked document.
The PM has said the UK will fully exit the EU by December 2020 if he wins the election and MPs approve his plan.
But the document says government will struggle to deliver the infrastructure and staffing needed by that deadline.
The PM did not directly comment on the report when asked.
But Mr Johnson instead said his plan was a "great deal" for both Northern Ireland and the rest of the UK, and would "give the country real momentum".
The SNP said the leak was "just the latest evidence that Boris Johnson can't be trusted".
It comes as the leader of the Democratic Unionist Party, Arlene Foster, said Mr Johnson "broke [his] word" after promising there would be no checks between Great Britain and Northern Ireland after Brexit – a red line for her and her candidates.
Throughout the election campaign, the PM has denied there will be checks in the Irish Sea, despite telling the BBC in the days after his deal was agreed that some checks would be needed.
Mr Johnson's deal with the EU does mean there will be checks on goods going from Great Britain to Northern Ireland but there has been confusion on whether there will be checks on goods going in the other direction.
Mr Johnson has pledged to finalise leaving the EU by 31 January, and said a trade deal will be done with the bloc by the following December.
However, he has also said if no deal is done by that deadline, the UK will still leave – meaning all transition agreements will come to an end by the close of 2020.
First reported by the Financial Times, the document from the Department for Exiting the European Union (DExEU) has cast doubt on whether the government will be ready to meet this proposal when it comes to new arrangements between Great Britain and Northern Ireland.
The BBC has also seen the document – which was circulated to senior officials in Whitehall last week – that warns of "high levels of checks and controls" as a result of the deal, and says there may be "legal and political" impacts.
It reads: "Delivery of the required infrastructure,