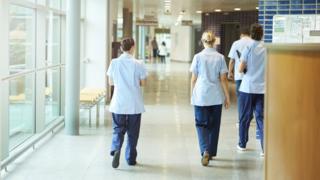 Image copyright Getty Images
The Conservative manifesto pledges to add 50,000 nurses to the workforce in England by 2024-25.
How realistic is this target, particularly given that nurse numbers have gone up by only about 5,000 since 2010?
Workforce is one of the main concerns for the NHS in England right now. Health employers talk of difficulties filling rotas and worries about how future staff can be recruited at a time of rising patient demand.
In an attempt to address that, the Conservatives have said that if re-elected they would take action to address the problem.
This will be achieved, according to the party, by training more staff, international recruitment and better retention of existing nurses.
Number of nurses
NHS England, full time equivalent at September of each year
Source: NHS Digital. In 2009, there was a methodology change so numbers not directly comparable.