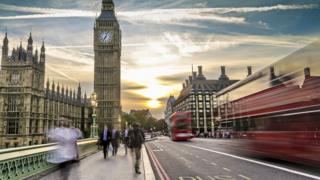 The abuse of candidates on Twitter has escalated during the election campaign, research suggests, with Conservatives seeing the biggest rise.
Abuse spiked after TV debates, a study by the University of Sheffield found – with abuse of Tories rising and Labour and Lib Dem levels remaining stable.
Labour's Jeremy Corbyn received most, followed by Tory leader Boris Johnson.
Others have reported being threatened with sledgehammers and targeted by abusive graffiti and vandalism.
Conservative candidate Andrea Jenkyns told the BBC some of the abuse she received had been "sexually violent", while the SNP's Lisa Cameron said social media trolls had threatened to behead her.
Researchers looked at the abusive replies candidates received on Twitter during the first four weeks of the general election campaign.
They cross-referenced a database of slurs and offensive words with the contents of responses to tweets sent by candidates standing on 12 December.
While the Labour and Conservative leaders received the most abuse, the study found that Health Secretary Matt Hancock, cabinet minister Michael Gove and Labour candidate David Lammy received the next highest levels.
Conservative Jacob Rees-Mogg, Lib Dem leader Jo Swinson, and Labour's Diane Abbott also received substantial levels of abuse.
Of the top 20 recipients of abuse between 3 November and 4 December, the study found that 11 were Conservative, seven were Labour and two were Lib Dem.
And while candidates of all parties received abusive tweet replies, Conservative candidates saw a rising level of abuse towards them as the campaign got under way – something that was not echoed in responses to either Labour or Lib Dem candidates, researchers said.
Professor Kalina Bontcheva, who leads the research team behind the study, said the overall rise in abuse suggested "extreme voter polarisation", with people using a variety of insults to attack the political orientation or opinion of candidates.
"This is combined with an even more disturbing rise in vitriolic personal abuse and threats – often targeting the candidates due to their race, gender, country of birth, or religion," she said.
Michael Gove saw a spike in abuse levelled at him around the time of Channel 4's election debate on climate change,