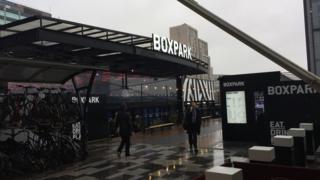 Image caption Croydon's Boxpark food, music and social centre was opened in 2016
Croydon. Famous for concrete, Boxpark, Stormzy and Kate Moss.
The south London borough is home to some 387,000 people, with the highest number of under-18s in the capital.
Croydon North, Croydon South and Croydon Central are its three parliamentary constituencies. The latter is a marginal, bellwether seat and since 1979 its winner has belonged to the party that forms the next government.
On a wet, grey day, residents shared their views on the election issues that mattered most to them.
Image caption Gemma works in housing for another London borough and has two children
Gemma, 33, is a council officer who moved to the area five years ago and lives in Shirley.
She said she "loves Croydon" and it had improved in her time there with the opening of places such as Boxpark – a pop up mall next to East Croydon station that serves a variety of cuisines from converted shipping containers.
The election however, is causing her some consternation. "I just feel like we're on the precipice of something awful and there just needs to be a massive change."
The environment and education are her top priorities.
"As I have two young children, my son just started school and I love his school but I'd be devastated if cuts affected it," she said.
Image copyright Courtney Robinson Image caption Courtney Robinson is not impressed with either of the two major political leaders
Waiting for a tram Courtney Robinson, a software engineer in his 20s, said Brexit was his bugbear.
"I feel the people are being sold isolation as independence and it is my generation and those after us who will pay the consequences," he said.
He is not entirely convinced by any of the main party leaders.
He said he was disappointed with Labour's Jeremy Corbyn not taking a stance over Europe and believed the Tories have "screwed over the country".
According to the council, about 7,000 people are employed in Croydon's tech-associated industries, with a further 7,000 in engineering.
As a millennial working in tech, Mr Robinson said housing costs were less of a problem for him, despite the "ludicrous" prices.
He rents a flat in New Addington that only takes up 15% of his salary but said the price of commuting was a big concern.
Image caption Daisy Nahrulla is concerned about the environment and transport in Croydon
His views on Brexit and transport were shared by 50-year-old Daisy Nahrulla,