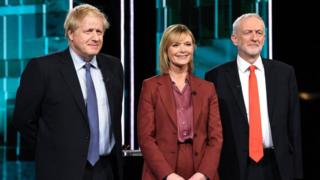 Image copyright PA Media
Boris Johnson and Jeremy Corbyn clashed on issues ranging from Brexit to the NHS during the first leaders' debate.
The BBC Reality Check team has analysed some of their claims.
DUP support for PM's Brexit deal
Jeremy Corbyn said that Boris Johnson's deal "narrowly got through the House of Commons with the support of the DUP".
Reality Check: That's not right – Mr Johnson's deal was supported by 285 Conservative MPs, 19 Labour MPs and 25 independents.
All 10 MPs from Northern Ireland's Democratic Unionist Party (DUP) voted against the deal.
You can find out how any MP voted using this tool.
Please upgrade your browser to view this interactive
How did your MP vote?
Enter a postcode, or the name or constituency of your MP
Seat vacant
Those MPs described as "Did not vote" may not have done so for a number of reasons. It could be they wished to abstain, or that they had constituency or ministerial business. The Speaker and his deputies cannot vote and Sinn Fein members traditionally do not vote.
function cutsTheMustard() {
return (
document.implementation.hasFeature('http://www.w3.org/TR/SVG11/feature#BasicStructure', '1.1') &&
'querySelector' in document &&
'localStorage' in window &&
'addEventListener' in window &&
'MutationObserver' in window // not supported in IE9 & IE10
);
}
if (cutsTheMustard()) {
function initEmbed() {
require(['https://news.files.bbci.co.uk/include/newsspec/21838-mp-vote-lookup/9-sept-2019/assets/embed/js/embed-init.js?v=1.0.4'], function (initFullFatApplication) {
initFullFatApplication(vjConfigObject['newsspec-21838-mp-vote-lookup-app']);
});
}
if (typeof require === 'undefined') {
var headTag = document.getElementsByTagName('head')[0],
requireTag = document.createElement('script');
requireTag.type = 'text/javascript';
requireTag.src = 'https://news.files.bbci.co.uk/include/vjassets/js/vendor/require-2.1.20b.min.js';
requireTag.onload = initEmbed;
headTag.appendChild(requireTag);
} else {
initEmbed();
}
}
else if (window.require) {
require(['istats-1'], function (istats) {
istats.log('browser does not cut the mustard',