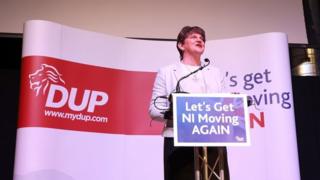 Image copyright PAcemaker Image caption Arlene Foster say DUP votes could still be crucial to the next government
The Democratic Unionist Party (DUP) will seek further changes to Boris Johnson's Brexit deal, if he remains prime minister after the general election.
Leader Arlene Foster said the number of DUP MPs elected would determine "the shape and direction of this country".
The party, which won 10 seats in the 2017 general election, launched its manifesto in Belfast on Thursday.
The DUP opposes elements of the Brexit deal relating to Northern Ireland.
It has been strongly critical of the revised plan because it would see Northern Ireland treated differently from the rest of the UK.
Mr Johnson's agreement with the EU includes special arrangements for Northern Ireland, including a consent mechanism that would see the Northern Ireland Assembly given a simple majority vote on how the rules on customs arrangements in Northern Ireland would work after Brexit.
The DUP argues that any vote on contentious matters should be done on a cross-community basis, with a majority of unionists and nationalists approving them rather than a straight majority.
At Thursday's manifesto launch in Belfast, deputy leader Nigel Dodds said the deal would be dangerous "to the economic and constitutional position of Northern Ireland".
Mrs Foster added that if Mr Johnson was returned as prime minister, the DUP would reiterate that unionism in Northern Ireland was united in its "rejection" of the deal, and would still seek to secure further changes to it.
'Protect the union'
The DUP entered into a confidence-and-supply agreement with the Conservative Party after the 2017 Westminster election, after Theresa May lost her majority.
Image copyright Reuters Image caption Sir Jeffrey Donaldson and Tory Chief Whip Gavin Williamson sign the confidence and supply agreement in June 2017
Mrs Foster said the DUP would not support a government led by Jeremy Corbyn if the upcoming election resulted in a hung parliament – in which no one party would have enough seats to form a government by itself.
She said: "The outcome of this election across the UK is still uncertain.
"As we have proved over the past two years our votes may still be crucial.
"The DUP is committed to a deal that works for the whole of the UK and which does not leave Northern Ireland behind, with no border in the Irish Sea."
Mr Dodds added that the DUP wanted to "protect" Northern Ireland's place within the United Kingdom and that its MPs would continue to vote against legislation and policies that would damage unionism and destabilise politics across the UK.