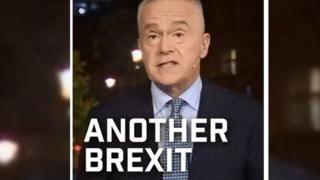 Facebook has deleted a Conservative election ad that used BBC News footage because it infringed the corporation's intellectual property (IP) rights.
The BBC said the material had been used out of context in a way that "could damage perceptions of our impartiality".
On Thursday, the Tories rejected a request from the BBC's lawyers to remove the 15-second video.
The BBC also complained to Facebook, which has now deleted the ad.
In a statement, Facebook said: "We have removed this content following a valid intellectual property claim from the rights holder, the BBC.
"Whenever we receive valid IP claims against content on the platform, in advertising or elsewhere, we act in accordance with our policies and take action as required."
A BBC spokesperson said: "We welcome the decision."
The Conservative Party said: "All political parties make use of BBC content. We will be asking the BBC if in the interests of fairness they intend to complain about other political parties who use their content."
Analysis
Image copyright Reuters
By Digital Elections Reporter Joe Tidy
The unprecedented and unpredictable campaign tactics being used during this election are putting Facebook's policies under increasing amounts of scrutiny and strain.
The decision to remove the Conservative advert is significant; not because of the action the platform took, but the grounds on which it acted.
The row between the BBC and the Conservative Party was about the ethics of the party's advert. The BBC believes that the ad misled viewers into thinking that its news reporters were supporting the Conservatives. The Conservatives disagreed.
Facebook were aware of the row on the night the ad began running but didn't get involved until a copyright claim was lodged days later.
The decision to take it down then was effectively a black and white one – and easy enough for the social media giant to act on without getting into the icky business of judging what counts as disinformation.
It's another example of the platform taking action on simple technical grounds and helps us to build a clearer picture of the fuzzy policies that the platform and its sister site Instagram adheres to.
Facebook will take action on political adverts but only when it has an excuse to stay out of the politics.
The move also brings into sharp focus the need for regulation of what elements of news coverage are or aren't allowed during an election campaign.
Three clips of BBC reporters or presenters – political editor Laura Kuenssberg, News at Ten presenter Huw Edwards and political correspondent Jonathan Blake – speaking in recent broadcasts about Brexit delays were used in the ad.