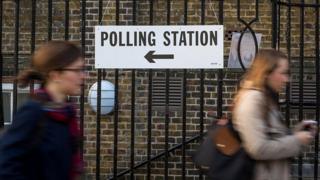 Image copyright Getty Images
When the polling stations close at 22:00 GMT on Thursday, 12 December, what should you be looking out for? Here is a guide to the key questions and battlegrounds.
1. Is Boris Johnson's position secure?
For Prime Minister Boris Johnson to be able to push ahead with his Brexit plans, the Conservatives need to win an outright majority. For that they need 326 seats.
This is because none of the other parties likely to win seats, including his former allies in the Democratic Unionist Party (DUP), is in favour of passing the prime minister's Brexit deal into law.
Most of the opposition parties (though not the DUP) favour a further referendum on whether the UK should, or should not, leave the EU.
So, if the prime minister fails to win a majority, he could find himself forced out of Downing Street – and replaced by an alternative government that sets about holding a new referendum.
2. What happens to Labour's 'red wall'?
If Mr Johnson is to win an overall majority, he is likely to have to win a significant number of marginal seats from Labour.
Of Labour's 50 most marginal seats, as many as 39 voted in favour of Leave in the 2016 referendum. In 16, more than 60% voted Leave.
These leave-inclined marginals – in north-east Wales, the Midlands and the north of England – are said to form Labour's "red wall".
They are seats in which Labour came only narrowly ahead of the Conservatives in the 2017 election. Many, such as Bishop Auckland, Workington, and Wrexham, have traditionally been safe Labour seats. Indeed, some of them have never returned a Conservative in a post-war general election.