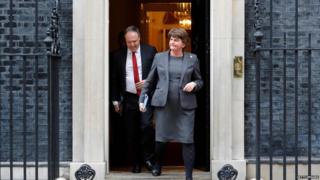 Image copyright Getty Images
"Who are the DUP?" became one of the most asked questions on Google UK in 2017.
The DUP has featured prominently in decisions affecting all our lives since that 2017 election.
("How to make slime" beat the DUP to Google's top spot but I'll make no judgements about the nation's priorities here!)
The party is well-known in Northern Ireland for its brand of social conservatism but more widely there was considerable ignorance about the new allies of No 10.
Extra money
Over the past two years that has changed. The DUP leader, Arlene Foster, is now a familiar face in UK politics, she has wielded a veto over the government at key moments and has secured £1bn of extra cash for Northern Ireland.
In 2017, the DUP was effectively able to name its price. It had just enough seats, with 10 MPs, to tip the balance of power and offer the Conservatives a small majority, by means of a confidence and supply agreement, in return for the £1bn to spend at home.
So will this general election bring about a new money-spinning opportunity for Northern Ireland?
Image copyright PA Media Image caption The DUP signed a confidence and supply agreement with Theresa May's Conservatives
At this election the DUP is "desperate for another mathematical miracle", according to professor of politics at Liverpool University Jon Tonge.
But for the Democratic Unionists to retain their status as kingmakers, he says, will require a scenario they would be freakishly lucky to repeat.
'Wishful thinking'
"A Boris Johnson minority administration may keep the DUP in place," says Prof Tonge, but only if the DUP again has the right number of seats to offer the Conservatives a majority.
"If the Conservatives win big then it's really over for the DUP. Why would you have the DUP onside if you don't need them?"
And he points out that "the DUP certainly aren't natural allies of Corbyn", making a DUP-Labour partnership unlikely.
"So it may be a position of power the DUP will never enjoy again."
The DUP chief whip, Sir Jeffrey Donaldson, has claimed the party will still have leverage over the Conservatives after polling day.
But this may be wishful thinking.
At a number of key moments the Tories may have regarded the DUP, frankly, as a pain in the neck, in terms of its capacity to scupper deals. And the confidence-and-supply agreement between the two parties has often been extremely strained.
Brexit dramas
Arlene Foster famously embarrassed Theresa May publicly during Brexit negotiations in December 2017, forcing her to pull out of an interim agreement in Brussels at the last minute,