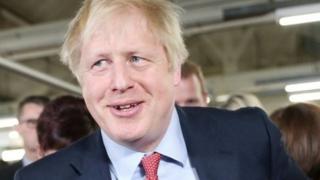 Image copyright Getty Images
Boris Johnson has insisted there will not be any checks for goods travelling between Northern Ireland and Great Britain under his Brexit deal.
He told Sky News that a leaked Treasury analysis document Labour revealed on Friday was "wrong" to suggest this would be the case.
The PM said the report had been put out "as a kind of distraction".
But Labour said it was "hard evidence" NI would be "symbolically separated" from the rest of the UK after Brexit.
And DUP leader Arlene Foster said she still had concerns over the prime minister's withdrawal agreement.
The comments come as the main political party leaders continue to push their pledges ahead of Thursday's general election.
Under the PM's agreement, Northern Ireland would continue to follow many EU rules on food and manufactured goods, while the rest of the UK would not.
Northern Ireland would also continue to follow EU customs rules but would remain part of the UK's customs territory.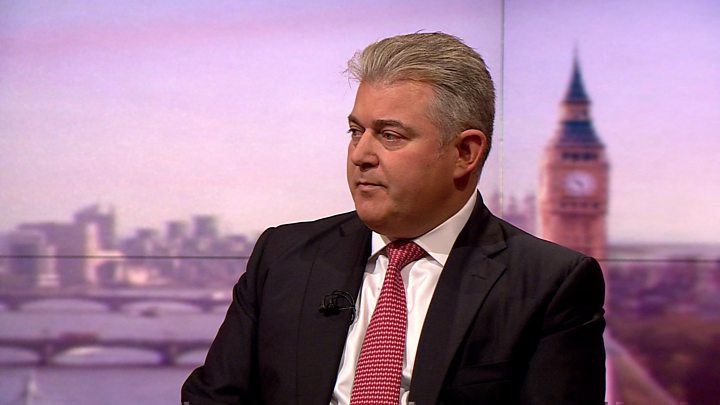 Media playback is unsupported on your device
Media captionBrandon Lewis: 'We are not going to have a border down the Irish sea'
A government risk assessment published in October said it would lead to new administration and checks on goods from west to east.
But Mr Johnson has insisted Northern Irish businesses will not be hit with additional paperwork or fees, telling a BBC phone-in during the election campaign: "We will make sure that businesses face no extra costs and no checks for stuff being exported from NI to GB."
He has said the only checks would be on British exports to the Republic of Ireland going via Northern Ireland.
'No checks'
When asked on Sky News's Sophy Ridge on Sunday whether there would be checks, in light of the leaked Treasury document, Mr Johnson replied: "No, absolutely not.
"The deal we've done with the EU is a brilliant deal and it allows us to do all the things that Brexit was about, so it's about taking back control of our borders, money, laws.
"But unlike the previous arrangements, it allows the whole of the UK to come out of the EU, including Northern Ireland, and the only checks that there would be would be if something was coming from GB via Northern Ireland and was going on to the Republic,