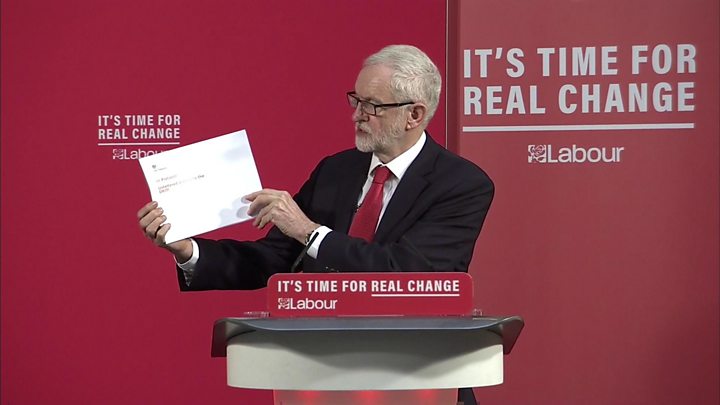 Media playback is unsupported on your device
Media captionJeremy Corbyn reveals "secret" government Brexit report
Jeremy Corbyn has said a leaked document obtained by Labour shows Boris Johnson is "misrepresenting" his Brexit deal and the "devastating" impact it will have on Northern Ireland.
He called the paper "hard evidence" NI would be "symbolically separated" from the rest of the UK after Brexit, with customs checks on goods.
Mr Johnson has repeatedly said there will be no border in the Irish Sea.
He dismissed Labour's claims as "complete nonsense".
Pressed on the issue during a campaign visit in Kent, the prime minister said his was a "fantastic deal" and the only checks would be on British exports to the Republic of Ireland going via Northern Ireland.
The Conservatives also said the leaked Treasury document was an "immediate assessment, not a detailed analysis".
It had not been written for "decision-making purposes" or been seen by the PM, the chancellor or "any of the senior officials involved in the negotiations", the party added.
But the Democratic Unionist Party (DUP), who oppose the agreement, said it had warned Mr Johnson that it would be bad for Northern Ireland and this was "further evidence".
The row comes as the leaders prepare for the last TV debate of the election on BBC One on Friday at 20:30.
Ahead of the encounter, Labour sought to increase the pressure on the prime minister, who has claimed his agreement with the EU on the terms of the UK's withdrawal will "get Brexit done" by 31 January.
Mr Johnson has said the whole of the UK will leave the EU at the same time "entire and perfect" and that there will be no checks on any goods moving from Northern Ireland to the rest of the UK.
At a press conference in London, Mr Corbyn said the 15-page Treasury document – titled Northern Ireland Protocol: Unfettered Access to the UK Internal Market – disproved this and showed Mr Johnson's claims about his own deal were "fraudulent".


Analysis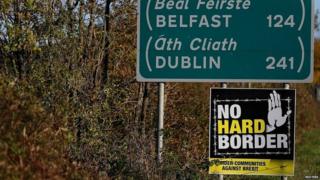 Image copyright Reuters
By John Campbell, the BBC's Northern Ireland business and economics editor
The analysis in this leaked document matches that published in a government risk assessment in October.
The initial study said the PM's deal could mean a reduction in business investment, consumer spending and trade in Northern Ireland. But this time the language is even blunter and confirms the worst fears of unionists.
It concludes that the deal would see "Northern Ireland symbolically separated from the Union."