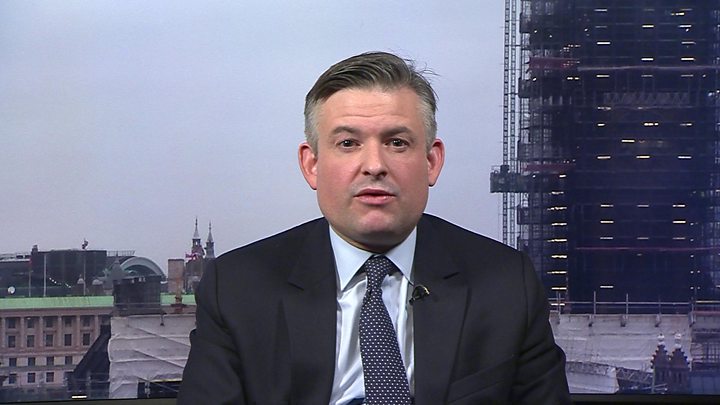 Media playback is unsupported on your device
Media captionJonathan Ashworth: "Of course it makes me look like a right plonker"
Labour's Jonathan Ashworth has insisted his apparent criticism of Jeremy Corbyn in a leaked secret recording by his Tory activist friend was "banter".
In a recording leaked to Tory-supporting website Guido Fawkes, Mr Ashworth is heard saying he did not believe Labour would win the election.
The shadow health secretary told BBC Politics Live: "I apologise to the Labour Party and party members."
Mr Ashworth has insisted he was "joshing around" in the conversation.
He is also heard saying No 10 "will pretty quickly move to safeguard security" if Mr Corbyn were PM.
Mr Ashworth said: "The reason this has come out today is because the Tories know the crisis in the NHS is ruining their campaign and we've got babies – babies – on the front page of the Daily Mirror unable to get a bed."
Mr Ashworth named the friend he was speaking to as former local Conservative Association chairman, Greig Baker, and he did not deny that he made the remarks.
Meanwhile, in an interview with BBC Breakfast, Mr Corbyn dismissed claims that he was a "problem on the doorstep" for Labour activists, saying it was "not a presidential election".
When Mr Ashworth was asked on the BBC's Victoria Derbyshire programme about his comments that the situation for Labour was "dire" and the party had made a mistake by not getting rid of Mr Corbyn as leader, he insisted this was not his view.
In the recording, he appears to refer to an unsuccessful plot to oust Mr Corbyn, instigated by some of his MPs in the aftermath of the EU referendum.
"People like me were internally saying 'this isn't the right moment' but I got kind of ignored," Mr Ashworth is recorded as saying.
On Labour's election chances, Mr Ashworth is heard saying: "I've been going round these national places, it's dire for Labour… it's dire.
"I'm helping colleagues, banging on about the NHS for them but it's awful for them, and it's the combination of Corbyn and Brexit… outside of the city seats…it's abysmal out there…they can't stand Corbyn and they think Labour's blocked Brexit."
On the recording, Mr Ashworth is asked: If Mr Corbyn "got in would he be as bad as I suspect?"
"I don't know, on the security stuff, I worked in No 10, I think the machine will pretty quickly move to safeguard security, I mean the civil service machine. But it's not going to happen. I cannot see it happening."
'Joshing'
Mr Ashworth told the BBC: "Of course it makes me look like a right plonker,