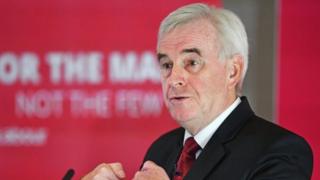 Image copyright PA Media
John McDonnell will promise to deliver a Budget to "end austerity", in a speech setting out Labour's priorities for its first 100 days in government.
The shadow chancellor will also vow to get "money moving out of Whitehall and the City" if Labour win the election.
And he will detail plans for "democratic control" of newly nationalised water and energy firms.
The Conservatives are also pledging to increase public spending, but not on the same scale.
They have criticised Labour's spending plans as "reckless", claiming they would lead to an economic crisis within months of the party taking office.
Conservative leader Boris Johnson is set to visit four Labour-held seats which voted for Brexit in the North-East of England on Monday, with three days to go until polling day.
Labour leader Jeremy Corbyn will, meanwhile, tour Labour target seats in the south of England, as his shadow chancellor sets out his economic plans.
Labour is proposing a big increase in spending on public services and social security to be funded by higher taxes on companies and better-off workers and government borrowing.
'Market forces'
They are also planning to take train companies, Royal Mail, the water industry, the big six energy firms and BT Openreach into public ownership.
In a speech, Mr McDonnell will set out details of what will be in his first Budget, if Labour wins Thursday's general election – including the new bodies to oversee nationalised utilities.
They were first announced last month in the party's manifesto.
He will say: "In our first hundred days we will start the process of bringing water and energy into public ownership.
"We'll set up boards to run them made up of you, the customer, and you, the worker, as well as representatives from local councils, metro mayors and others.
"We'll make sure decisions are taken locally by those who understand the services – those who use them and deliver them. Meetings will be public and streamed online with new transparency regulations set higher than ever before.
"So you can see if your road is being dug up, why, and for how long.
"And we'll create new People's Assemblies to hold these boards to account and give everyone the option of participating in how their utilities are run."
He will accuse past governments of "leaving the fate of whole communities at the mercy of market forces."
Low paid jobs
He will also outline Labour's plans to invest in green industries,