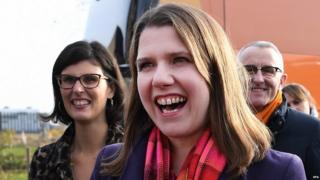 Image copyright EPA Image caption The Lib Dems say the UK will have a brighter future within the EU
Stopping Brexit will free up £50bn to spend on public services and reducing inequality, Jo Swinson will say as she unveils the Liberal Democrat manifesto.
The boost to economic growth which it says the UK will get from staying in the EU is at the heart of its plan to build a "brighter future for people".
The so-called "Remain bonus" would pay for 20,000 new teachers, extra cash for schools and support for the low-paid.
Other proposals include a "frequent flyer" tax and 80% renewables target.
Its largest single spending commitment is a major expansion of free childcare and support for early years education, to be paid for by an increase in corporation tax and changes to capital gains allowances on the sale of assets.
There are also eye-catching pledges to freeze the cost of many rail fares for five years and to legalise and tax cannabis sales to over-18s.
The Lib Dems are hoping to significantly boost their presence in Parliament on the back of their opposition to Brexit, as they target pro-Remain seats in the south of England and London held by the Conservatives and Labour.
Speaking during a visit to a school in Cambridge, she acknowledged recent opinion polls suggesting the party was being "squeezed" but insisted "real votes" were what mattered and she remained confident.
Ms Swinson has said she is a candidate to be prime minister and if the Lib Dems – which had 20 MPs at the end of the last Parliament – win a majority they will cancel Brexit entirely by revoking the Article 50 process for leaving the EU.
The party says the UK will reap a massive economic dividend from staying in the EU, claiming the economy will be 1.9% larger by 2024-5 than it would otherwise be if the UK leaves on the basis of Boris Johnson's withdrawal agreement.
Maintaining the UK's membership would boost economic growth and generate £50bn in total additional tax receipts over the next five years.
The forecast,