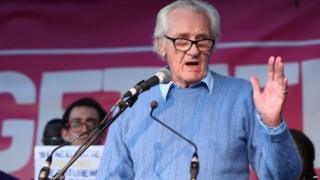 Image copyright AFP
Former Conservative Deputy Prime Minister Lord Heseltine has urged Tory voters to back Lib Dem or independent candidates in next month's poll.
Lord Heseltine, who served under Margaret Thatcher and John Major, said Boris Johnson's Brexit policy would be "utterly disastrous" for the country.
He said the PM's "get Brexit done" by January slogan was "nonsense" and there was still a risk of a no-deal exit.
But cabinet minister Michael Gove said his ex-colleague was "wrong" on this.
Lord Heseltine, a passionate Remain supporter who backs another Brexit referendum lost the Conservative whip earlier this year after saying he would "lend" his vote to the Lib Dems in May's European elections.
Speaking at an event in Buckinghamshire on Monday, he encouraged lifelong Tories to vote for the Lib Dems or three former Tory MPs – Dominic Grieve, Anne Milton and David Gauke – who are standing as independent candidates after being thrown out of the parliamentary party.
"I'm telling them [Tory voters] to vote for what they believe in and what the Conservative Party has stood for all my life and probably all theirs – and to put country first," the 86-year-old said.
"What I think that means in practical terms is they either vote for defrocked Conservative candidates – of which we have three excellent examples here – or they vote for the Lib Dems."
'More uncertainty'
Mr Johnson has said if the Conservatives win a healthy Commons majority, he will bring his EU withdrawal agreement back to Parliament before Christmas in the expectation it will become law early in 2020 and the UK will leave the EU by the 31 January deadline.
The PM has said the UK will then be able to negotiate a new trade and security relationship with the EU in less than a year, despite the fact most trade experts say it will take much longer.
Mr Johnson has insisted the UK will not extend the transition period that will kick in after the UK leaves the EU and which will see the UK follow the bloc's rules until the end of 2020.
If the UK and the EU don't agree a deal by that point, the UK will default to World Trade Organisation trading rules, which opponents of Brexit say is tantamount to a no-deal exit.
Lord Heseltine told Radio 4's Today the reality of the Brexit process was very different to that painted by the PM.
"It is complete nonsense to suggest that this thing can be done by Christmas,"