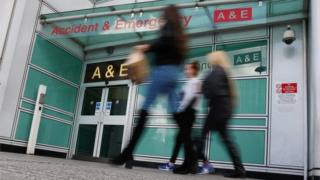 Image copyright Reuters
Politicians have "ducked" the big issues in health and social care during the election, a leading NHS boss says.
At the start of the campaign, NHS Providers chief Chris Hopson urged parties not to make "empty promises" or create "unrealistic expectations".
There have since been manifesto pledges of millions more in NHS funding and extra staff from both main parties.
But Mr Hopson says they have not offered "credible answers" to the NHS's biggest challenges.
The NHS has been a major issue during the campaign, with some polls suggesting voters place it of higher importance to them than Brexit.
All three parties are promising above-inflation increases to the budget for frontline care. The pledges only apply to England as health and care issues are devolved.
There have also been promises to increase staffing. Labour has pledged to boost nurse numbers by 24,000, while the Conservatives have promised 50,000 nurses, factoring in the retention of current staff.
The Liberal Democrats have promised to put a penny on income tax to help fund health and social care.