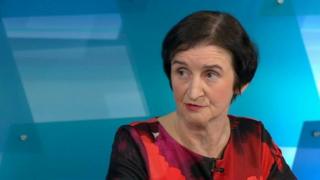 Image caption Nia Griffith said there was 'absolutely' a need to apologise
A senior member of Jeremy Corbyn's team has said he should apologise to the UK's Jewish community after the chief rabbi criticised how the party deals with anti-Semitism claims.
Nia Griffith, who was Labour's defence spokeswoman, said the party's handling of the issue "is a shame on us".
She told a BBC Wales election debate the party had not been effective as it should have been in dealing with it.
Earlier, Mr Corbyn declined to apologise.
Chief Rabbi Ephraim Mirvis claimed "a new poison – sanctioned from the very top – has taken root" in Labour.
In a BBC interview with Andrew Neil, the Labour leader was asked four times whether he would like to apologise.
Mr Corbyn said his government would protect "every community against the abuse they receive".
Image Copyright @WalesPolitics @WalesPolitics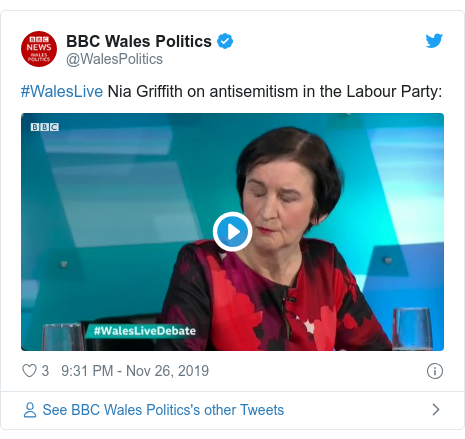 Image Copyright @WalesPolitics @WalesPolitics
Report
Ms Griffith, asked in a TV debate in Pembrokeshire, said: "Jeremy Corbyn has agreed to meet the chief rabbi.
"And I would say absolutely that we need to apologise to our colleagues in my own party who have been very upset but to the whole of the Jewish community as well, that we have not been as effective as we should have been in dealing with this problem.
"It is a shame on us, it really is, and it's something I'm very, very ashamed of and it's something we must absolutely put right."
Image caption A live BBC Wales debate was held in Haverfordwest on Tuesday night
The BBC Wales Live debate, from Haverfordwest, also had questions from the audience on Brexit, poverty and struggling families, climate change and trust in politicians.
James Wells MEP, for the Brexit Party, said 4,000 food parcels handed out to children doing school holidays in Wales showed there was a problem – and there needed to be review of universal credit and an end to delays. "The roll-out of the universal credit system has been a disaster. It needs to be reformed." But he said talk of negative effects from a no-deal Brexit was "scare-mongering".
Plaid Cymru's Liz Saville-Roberts said Wales was at the bottom of too many league tables – and the party would like to "get to grips" with child poverty – and called for a Welsh children's allowance of £35 a week.
David TC Davies for the Conservatives said he totally accepted that poverty existed and would never be complacent about it.